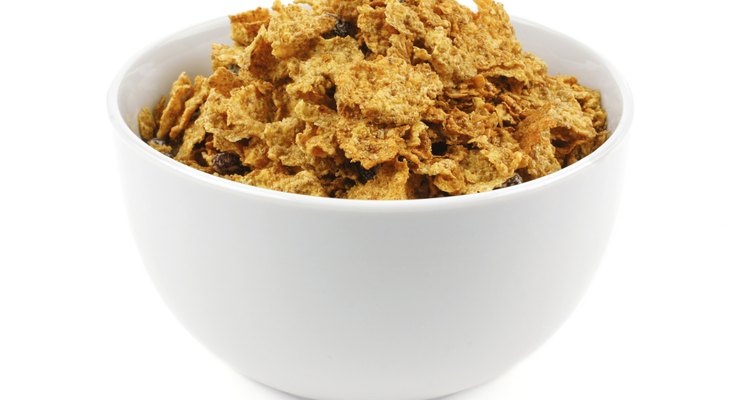 jenifoto/iStock/Getty Images
Post Raisin Bran, a breakfast cereal with slightly sweetened, crunchy flakes of whole grain wheat and wheat bran, provides 32 percent daily value of fiber per serving. According to the Dietary Guidelines for Americans 2005, the recommended fiber intake for an adult is 14 g per 1,000 calories. Keep in mind, when you read the nutrition facts label, that every 4 g of sugar, equals one tsp., which equals 16 calories.
Bran
A grain of wheat consists of the endosperm, the germ and the bran. According to John Kirschmann, author of the Nutrition Almanac, , the bran is approximately 14 percent of the kernel and contains 73 percent pyridoxine, 50 percent pantothenic acid, 42 percent riboflavin, 33 percent thiamin and 19 percent protein. The bran is the outside covering of the wheat kernel. Because Post Raisin Bran contains whole grain wheat as well as wheat bran, this cereal provide soluble as well as insoluble fiber.
Nutrition Facts
One cup of Post Raisin Bran has 190 calories. This cereal also has 1 g of fat, no cholesterol, 250 mg of sodium, 320 mg of potassium, 46 g of carbohydrates with 8 g of dietary fiber, 19 g of sugar, 19 g of other carbohydrates and 5 g of protein. Keep in mindthat cereals with added fruit have a higher sugar content, as the fructose or fruit sugar, must also be taken into consideration. In comparison, Post Bran Flakes, a cereal similar to Raisin Bran, but without the raisins, has 5 g of sugar per ¾ cup serving.
Vitamins and Minerals
Because Post Raisin Bran is fortified with vitamins and minerals, including reduced iron, niacinamide, zinc oxide, vitamin B6, vitamin A palmitate, vitamins B1, B2, B12, D and folic acid. As a result of this fortification, Post Raisin Bran provides 2 percent of the daily value of calcium, 10 percent of vitamin D, 15 percent of vitamin A, zinc and copper, 20 percent daily value of phosphorus and 25 percent of thiamin, riboflavin, niacin, vitamins B6 and B12 and magnesium. This cereal also contains 50 percent daily value of folic acid and 60 percent of the daily value of iron.
Ingredients
Post Raisin Bran contains whole grain wheat, raisins, wheat bran, sugar, wheat flour, malted barley flour and salt. This cereal has no added colors, flavors or preservatives. Post puts Sun-Maid California raisins in each box of Raisin Bran cereal.
References
"Nutrition Almanac"; John D. Kirschmann; 2007
Writer Bio
Based in Atlanta, Valerie Liles has been writing about landscape and garden design since 1980. As a registered respiratory therapist, she also has experience in family health, nutrition and pediatric and adult asthma managment. Liles holds a Bachelor of Arts in journalism from Colorado State University and a Master of Science in technical communication from the University of Colorado.
Photo Credits
jenifoto/iStock/Getty Images