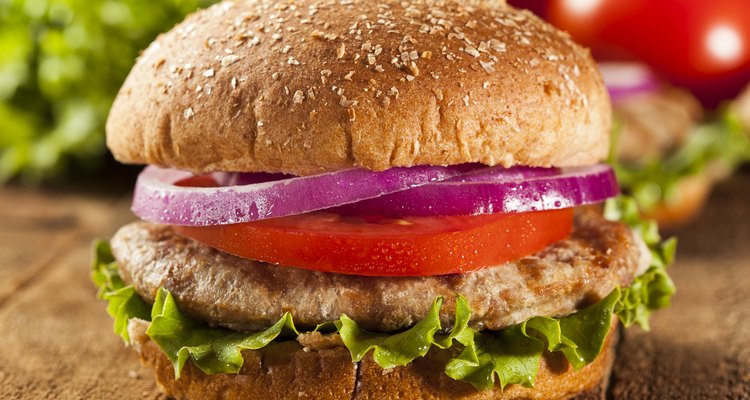 bhofack2/iStock/GettyImages
Make Healthy Chicken Patties to Freeze for Later Use
Chicken patties work as both the star of a meal or the filling of a sandwich. Made with freshly cooked shredded chicken, these patties are easy to make in minutes and pan-fry. Even better, you can make them in bulk and freeze them.
This recipe contains ingredients, like chicken breasts, that you likely have around your home already. It gets a touch of sweetness from the apple included to balance the savory flavors. These patties freeze well if sealed in a zipper bag and can last for up to six months in the freezer, ready to heat up right from being frozen for an easy meal. They are perfect for a chicken sandwich at lunch or a flavorful chicken dinner. On busy nights, you simply defrost the patties and heat them up to serve with vegetables, pasta, mashed potatoes or rice.
Total Time: 40 minutes | Prep Time: 20 minutes | Serves: 4 to 6
1/2 teaspoon kosher salt
1/2 teaspoon garlic powder
2 quarts water

4 boneless, skinless chicken breasts

3/4 cup apple, diced

1/2 medium onion, diced
1/2 cup soda crackers, crushed

1 egg

1/2 teaspoon dried parsley
1 teaspoon curry powder
1/2 teaspoon sage
1/2 teaspoon lemon juice
1/4 teaspoon pepper
1/2 teaspoon salt
1/4 cup flour

3 teaspoons seasoned breadcrumbs
4 tablespoons olive oil
In a large pot over medium heat, add salt and garlic powder to 2 quarts water. Drop in the chicken breasts, and simmer them for 15 minutes until completely cooked through.

Remove the chicken breasts from the water and shred them using a fork. You should have about 3 cups of shredded chicken.
Dice an apple and an onion. In a small bowl, beat the egg with a fork.
Crush the soda crackers in a food processor, pulsing them until you have fine crumbs.
Mix the shredded chicken with the beaten egg, diced onion, diced apple, lemon juice, dried parsley, curry powder, sage, pepper, kosher salt, crushed soda crackers, flour and breadcrumbs. Refrigerate for about 5 minutes.
Remove the chicken mixture from the refrigerator and form it into patties as big or small as you like.
In a large skillet over medium-high heat, pan-fry the patties in olive oil for about 4 minutes per side.
Use immediately or cool them for 20 minutes before wrapping them in plastic wrap. Freeze for up to 6 months in freezer-safe zipper bags. To reheat, use them straight from the freezer and pan fry them in vegetable oil or bake them at 350F for 15 minutes.
References
Writer Bio
Based in Las Vegas, Susan Paretts has been writing since 1998. She writes about many subjects including pets, finances, crafts, food, home improvement, shopping and going green. Her articles, short stories and reviews have appeared on City National Bank's website and on The Noseprint. Paretts holds a Master of Professional Writing from the University of Southern California.