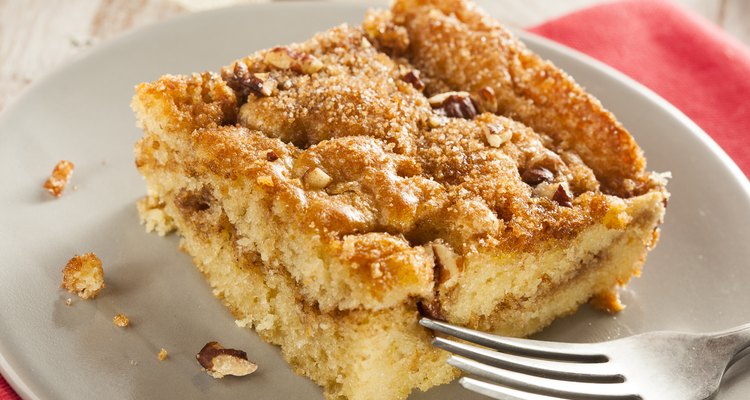 bhofack2/iStock/GettyImages
This Coffee Cake Recipe is Simple But Delicious
Some weekend mornings just aren't right without warm, cinnamon-y coffee cake. This simple recipe requires only one bowl and takes about 15 minutes to prepare. Whip it up; pop it in your oven, and then brew some java for you while pouring some juice for the kids. The sweet, spicy topping makes it a terrific holiday pick, and if you make it on a Sunday and store it in your fridge covered with plastic wrap, the leftovers will stay fresh all week – if there are any.
Total Time: 90 minutes | Prep Time: 25 minutes | Serves: 12
1/2 cup packed brown sugar

1/2 cup whole wheat or white whole wheat flour

1 tablespoon cinnamon

1/4 teaspoon salt

1/4 teaspoon (or 2 dashes) ground cardamom

4 tablespoons unsalted butter, softened

1/2 teaspoon ground cinnamon

2 cups sugar

12 tablespoons unsalted butter

4 teaspoons baking powder

1 teaspoon salt

1 tablespoon vanilla extract

3 large eggs

2 2/3 cups all-purpose flour

15 ounces plain or vanilla Greek yogurt (2 cups, minus 2 tablespoons)

In the bowl of your mixer combine the brown sugar, whole wheat or white whole wheat flour, cinnamon, salt and cardamom. Using the paddle attachment (the flat, triangular one), blend the ingredients on low until they're well combined.

Dump the topping mix out into a bowl and set it aside.

Heat your oven to 350F and line a 9-by-13-by-2-inch baking pan with parchment paper.

Without cleaning the mixer bowl out, add the sugar, butter, baking powder, salt and vanilla extract. Still using the paddle attachment, blend the ingredients together on low until they're well moistened. Then increase it to medium until the batter has a creamy consistency.

Add the eggs one at a time, and pause to scrape the sides of the bowl and paddle as needed.

Once everything's blended together and creamy, set the mixer to low and gradually add about 1/3 of the flour and 1/3 of the yogurt. (No need to be precise!) Repeat this twice more, until you've added all of the called for flour and yogurt.

Spread the batter onto the pan, and then cover the top with the prepared topping one handful at a time. If it's more powdery than crumbly, squeeze the topping in your hand to form nuggets first.

Bake the coffee cake for about 40 minutes, or until it's puffed up and a toothpick or fork inserted into the center comes out with only a few moist crumbs.

Cool the cake in the pan for about 30 minutes before serving it.
References
Writer Bio
August McLaughlin is a health and sexuality writer and author of "Girl Boner: The Good Girl's Guide to Sexual Empowerment." Her work appears in Cosmopolitan, The Washington Post, DAME Magazine, LIVESTRONG.com and more. augustmclaughlin.com