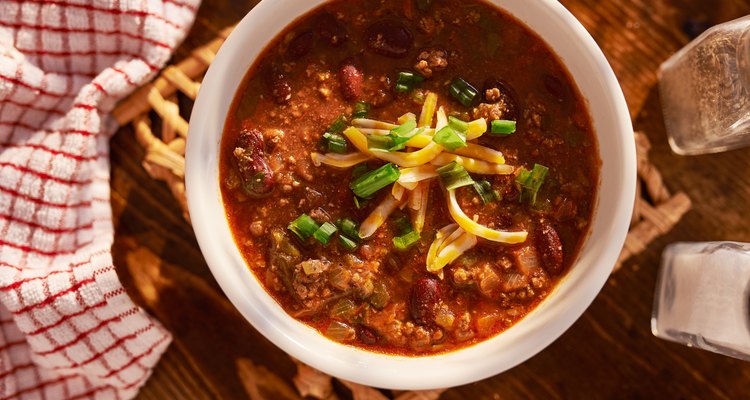 rez-art/iStock/GettyImages
A Delicious Kid-Friendly Chili That Fits Your Healthy Lifestyle
As a working mom, the last thing you want to do when you get home is make three separate meals because you're trying to eat better and drop a few pounds. Chili is always a family favorite, and you can make it to both fit your weight-loss plan and be yummy enough so your kids will eat it too. Turkey chili that fits within the Weight Watchers plan is hearty and full of flavor, and no one will be able tell that it's healthy too.
This recipe is an adaptation of the Weight Watchers turkey chili recipe. Using very lean ground turkey and beans while minimizing the amount of added oil helps keep calories and fat content low and protein high. The new Weight Watchers SmartPoints plan is designed to help you make good food choices that promote weight loss. SmartPoints are calculated based on a food item's calories, protein, saturated fat and sugar content. Foods low in calories and high in protein are low in points, and foods high in calories, saturated fat and sugar are high in points.
Total Time: 1 hour | Prep Time: 15 minutes | Serves: 6
1 teaspoon oil
1 large onion, chopped
2 teaspoons garlic, minced
1 pound 93 percent lean ground turkey
2 tablespoons chili powder
1 teaspoon ground cumin
1 teaspoon hot sauce
1 (16 ounce) can diced tomatoes

1 1/2 cups cooked kidney beans
1 cup chicken or vegetable broth

1/2 teaspoon kosher salt
1/2 teaspoon black pepper
In a large pot over medium heat, saute oil, onions and garlic until soft, about 5 minutes.

Add ground turkey and cook until browned, about 10 minutes, breaking up lumps of meat as it cooks.
Stir in chili powder, cumin, hot sauce, canned tomatoes, kidney beans, broth, salt and pepper.

Bring the chili to a boil, then cover, reduce heat to low and simmer for 30 to 45 minutes.

Serve hot.

Serve your turkey chili with a fresh salad and a slice of crusty whole wheat bread to use for dipping.
References
Writer Bio
Jill Corleone is a registered dietitian and health coach who has been writing and sharing her love of food, nutrition and health with anyone who'll listen for almost 20 years. Her work has been featured on the Huffington Post, Diabetes Self-Management and Working Mother.