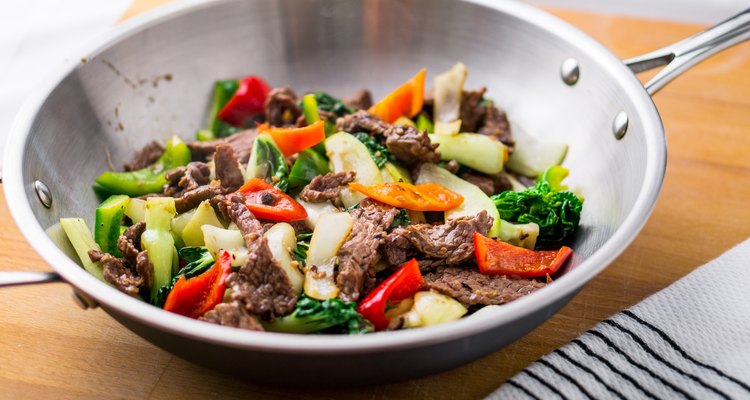 Louno_M/iStock/Getty Images
Michael Pollan's advice for those wanting to eat healthy foods works just as well for those wanting to save money: "Eat food. Mostly plants. Not too much." Avoiding processed foods, limiting meat and watching portion size are the same guidelines published in the U.S. Department of Agriculture's My Pyramid, and offer ways to maintain good nutrition while also maintaining your bank account.
Breakfast
Buy rolled oats from the bulk section of your grocery store and microwave it for two minutes for a quick, low-cost breakfast. Using the microwave saves energy whether your stove top is gas or electric.
Purchase whole-wheat bread from the bakery thrift store for toast. When bread is toasted, you can't tell that it isn't 100 percent fresh.
Skip high-cost and high-sugar fruit juice for breakfast. Instead, eat a few orange segments and save the rest for a mid-morning snack.
Lunch and Dinner
Cook with healthy, low-cost canola oil.
Follow recipes for cooking with dried beans. You'll save money and improve taste by cooking with dried beans instead of canned beans. Make them in large batches and freeze some for later use.
Prepare stir-fries to use meat as a flavoring instead of as the main event. Eat portions of 5.5 oz. or less, as recommended by the Dietary Guidelines for Americans, when you do cook with meat--you'll save money and you'll be healthier, too. As Pollan points out, studies indicate that the more red meat you include in your diet, the greater your risk of heart disease and cancer.
Eat vegetarian meals two or three times a week. Try chili without hamburger, bean enchiladas and hearty soups and stews with whole grains, such as barley, wheat berries or farro.
Cook two or more items together to save money on energy and to make healthy left-overs you can enjoy for lunch. Make your own spaghetti sauce and soups in large batches.
Throughout the Day
Drink water instead of soda. According to Mayo Clinic, you need about 8 cups of fluids each day, which you can get through both liquids and food. Drinking plenty of water guarantees that you will keep your body hydrated.
Eat fresh fruits and vegetables in season and freeze extras to use during the winter months. Stock up on winter squash in the fall and winter and strawberries in the spring.
Pack your own healthy snacks of dried raisins, peanuts and carrot sticks bought in the bulk section of the supermarket instead of buying pre-packaged, high-fat and high-sodium crackers and chips.
Shop Wisely
Plan low-cost, healthy meals ahead of time and follow your shopping list to avoid impulse buying.
Buy frozen vegetables to save money while still getting good nutrition. Canned vegetables often contain high levels of sodium and less nutrition than frozen varieties.
Buy whole chickens and cut them up yourself.
References
Writer Bio
Susan Lundman began writing about her love of cooking, ingredient choices, menu planning and healthy eating after working for 20 years on children's issues at a nonprofit organization. She has written about food online professionally for ten years on numerous websites, and has provided family and friends with homemade recipes and stories about culinary adventures. Lundman received her M.A. from Stanford University.
Photo Credits
Louno_M/iStock/Getty Images