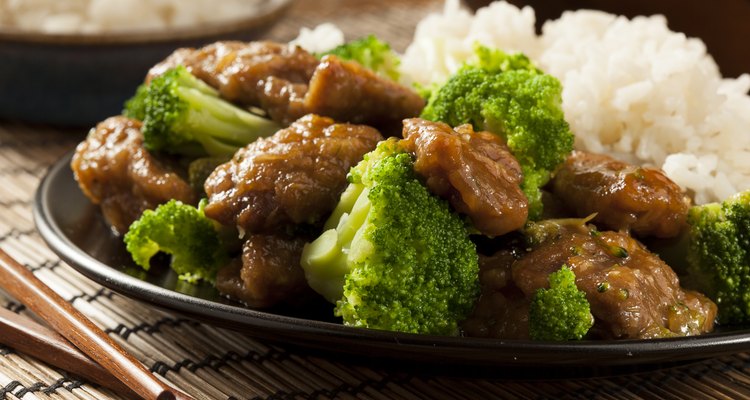 bhofack2/iStock/GettyImages
Enjoy a Chinese Food Favorite, No Delivery Needed
As a busy mom, it's tempting to turn to delivery when a weeknight schedule gets out of hand. Between the amount of money it takes to feed the whole family, though, and the effect it has on everyone's waistline, Chinese food delivery isn't the smartest idea.
You don't need to pick up the menu – you can make classic beef and broccoli right at home, with all the flavor the kids love and without the excess sodium and sugar that you'd rather avoid.
Total Time: 20 minutes | Prep Time: 10 Minutes | Serves: 4
1 1/2 tablespoons cornstarch

3/4 pounds sirloin, sliced 1/8 inch thick

3 tablespoons vegetable oil

10 ounces fresh or frozen broccoli florets

3 garlic cloves, minced

3 tablespoons soy sauce

1/3 cup water

3 cups white rice, cooked

Add the cornstarch and beef to a large mixing bowl and toss until the meat is well-coated.

Add 2 tablespoons vegetable oil to a wok or large saute pan over medium-high heat. When it's hot but not smoking, add the beef and cook for 1 minute. Transfer the beef to a plate and keep warm.

Add 1 tablespoon of oil to the pan, and then add the broccoli and garlic. Cook until the vegetables are tender. The time will vary based on whether you're using fresh or frozen broccoli.

Add the soy sauce and water to the pan. Return the meat to the pan and cook until the sauce is thickened.

Serve the beef and broccoli over 3/4 cup of cooked white rice per person.

References
Writer Bio
Kelsey Casselbury is a freelance writer and editor based in central Maryland. Not only a freelance writer, editor, and designer, she is also a mom of a preschooler, a volunteer for two nonprofit organizations, and an avid reader, cook, and piano player. She has a bachelor's degree in journalism from The Pennsylvania State University.