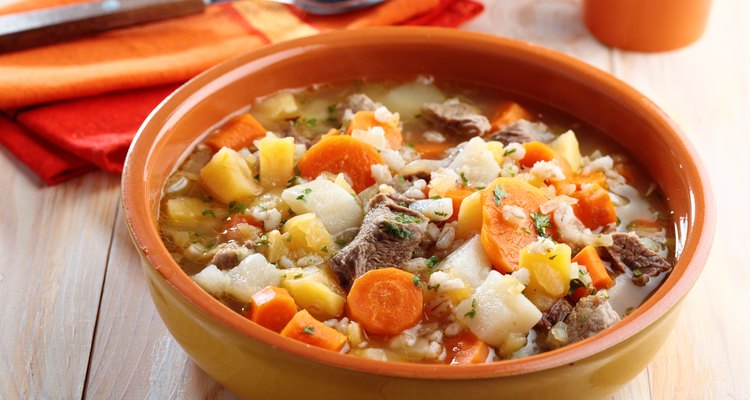 -lvinst-/iStock/GettyImages
Clean Eating Recipes You Can Put Together in Flash for All to Enjoy
While clean eating sounds like a complicated new diet that requires a lot more time in the kitchen, it's not. It's a way of eating that encourages eating foods in its more natural state. For example, instead of chicken nuggets and french fries, you go with grilled chicken salad and a baked potato.
It's not always quick and easy, though, to eat this way, despite its benefit. Having some easy-to-prepare recipes for your clean eating meal plan can help ease dinnertime stress and answer that difficult question: "What's for dinner?"
1. Baked Chicken With Veggies and Herbs
One-dish meals make cooking simple. In a large glass baking dish, place cut potatoes, carrots and onions, and top with chicken breasts. Drizzle chicken and veggies with oil and flavor with rosemary, thyme, kosher salt and pepper. Bake in the oven for about an hour at 400F. Prep this dish ahead of time and store in the fridge until you're ready to pop it in the oven.
2. Roasted Shrimp and Broccoli
This meal cooks up fast and is a smart way to use frozen or leftover cooked broccoli. In a large bowl, combine kosher salt, pepper, olive oil and lemon juice. Add shrimp and lightly steamed broccoli and toss to coat. Spread shrimp and broccoli evenly on a sheet pan and roast in the oven at 425F for 8 minutes. Serve with brown rice.
3. Slow-Cooker Beef and Barley Stew
If you're short on time after work, use your slow-cooker to make this healthy stew filled with high-fiber barley and antioxidant rich carrots. In an oiled skillet over medium-high heat, brown your stew meat on all sides. Place the browned meat in your slow-cooker and top with beef stock, chopped onions, whole-grain barley, chopped celery, chopped carrots, minced garlic, salt, pepper, thyme, bay leaves and tomato paste. Cover and cook on low heat for 8 hours.
4. Turkey Tacos
You can still enjoy tacos on your clean-eating meal plan. Instead of a packaged taco kit, use spices you have in the cupboard to create seasoning, as well as whole-grain tortillas. In an oiled skillet over medium-heat, cook chopped onions until translucent. Add ground turkey and cook until browned. Season with chili powder and salt. Pour in chicken broth as needed to add moisture and flavor. Serve with chopped spinach and diced tomatoes.
5. Clean Out the Fridge Salad
Some days the thought of cooking seems too exhausting. Your fridge is full of items that you can use to make a delicious and healthy salad. Start with a base of greens and top with any fresh veggies you have sitting in the crisper, such as carrots, cucumbers, tomatoes, onions or radishes. Then add your protein—maybe it's leftover shrimp, chicken or ground turkey. If you're out of cooked meats, canned beans and nuts also make a good option. For sweetness add fresh or dried fruit. Whisk together oil, balsamic vinegar, Dijon mustard, kosher salt and pepper for a simple homemade salad dressing to top off your healthy salad.
6. Easy Overnight Oats
Need an easy and clean breakfast recipe? You can't beat overnight oats, which require just a tiny bit of prep time. In a small glass jar, layer whole oats, berries and walnuts. Drizzle with honey and add enough milk to cover the oats. Place in the fridge overnight or about 8 hours. Eat them up hot or cold, depending on your preferences.
References
Writer Bio
Jill Corleone is a registered dietitian and health coach who has been writing and sharing her love of food, nutrition and health with anyone who'll listen for almost 20 years. Her work has been featured on the Huffington Post, Diabetes Self-Management and Working Mother.