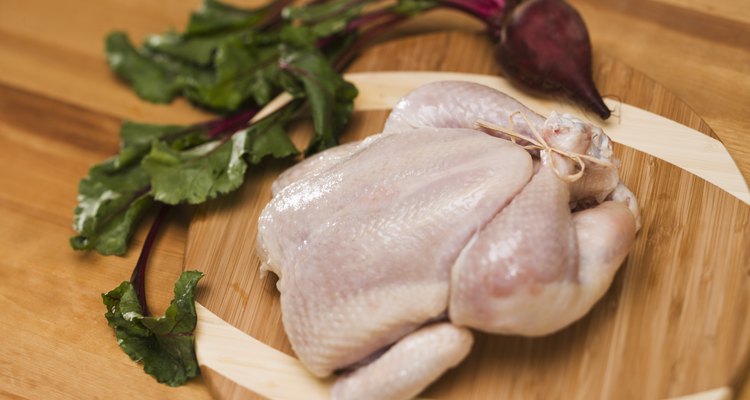 Jupiterimages/Comstock/Getty Images
The key to a good shredded turkey sandwich is the moisture content in the meat. Moisture ensures the flavors in the seasonings penetrate the turkey and are distributed evenly. One way to get a whole turkey juicy enough for a delicious shredded turkey sandwich is to braise it in a slow cooker. With the right liquids and seasonings, and a little time, you'll have one tasty turkey perfect for shredding.
Step 1
Defrost the whole turkey in the refrigerator before beginning the cooking process. This should take about 24 hours for every 4 to 5 pounds of turkey.
Step 2
Lay the turkey on a clean cutting board, douse it with olive oil and season it with salt, pepper and any other spices you enjoy with turkey.
Step 3
Cut the turkey into separate pieces. Divide it by wings, breast, back and legs.
Step 4
Place the turkey pieces in a slow cooker and turn it on to low.
Step 5
Add whatever diced, raw vegetables you enjoy to the slow cooker; onion, garlic, carrots and parsnips are good options for the long cooking process.
Step 6
Add a liquid to the slow cooker that complements turkey. Beer, broth, vegetable juice or some combination of the three are common. For Southern-style turkey, add homemade or store-bought barbecue sauce to the slow cooker. Pour about 1 to 2 inches of liquid into the bottom of the slow cooker.
Step 7
Stir the mixture in the slow cooker and douse the turkey pieces with it.
Step 8
Cook the turkey on low until the internal temperature reaches at least 165 degrees Fahrenheit. Test it by inserting a meat thermometer into the middle of a breast. Cooking times will vary based on the slow cooker and the size of the turkey, but a general rule is 7 to 9 hours.
References
Resources
Writer Bio
Based in Halifax, Nova Scotia, Jordan Whitehouse has been writing on food and drink, small business, and community development since 2004. His work has appeared in a wide range of online and print publications across Canada, including Atlantic Business Magazine, The Grid and Halifax Magazine. Whitehouse studied English literature and psychology at Queen's University, and book and magazine publishing at Centennial College.
Photo Credits
Jupiterimages/Comstock/Getty Images