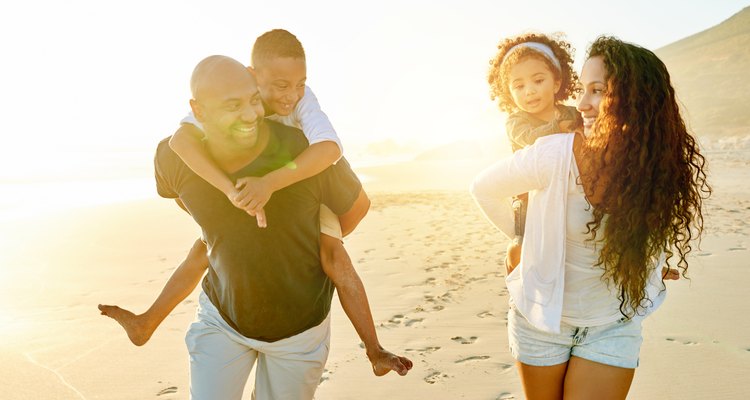 UberImages/iStock/GettyImages
Combine Style and Safety for a Day in the Sun
Everything's better with a little sand between your toes—and everything's worse with a sunburn. So whether you're planning to spend a few hours at the shore, or jetting off on a week-long vacation to the Caribbean, keep sun safety in mind. Prepare yourself and your kids for warm, sandy fun by packing pieces that are as easy and breezy as a day at the beach.
Wear: Bathing Suit
This one's a bit of a no-brainer. If there's any chance that you'll want to take a dip or let the sun warm your upper thighs, wear your bathing suit to the beach. You might be able to change into it once you get there, but beach changing rooms tend to be sticky, sandy and crowded, and it's best to minimize the time you spend in them.
Looking for a suit that will help you feel both comfortable and confident? Choose a suit with adjustable straps that fits you snugly. You may be tempted to cover up with an oversized suit, but it will gape and droop throughout the day.
If you have any kids in diapers, dress them in swim diapers and bring a few spares in your beach bag.
Wear: Sunscreen
Not technically a garment, sunscreen should be the second thing you put on before a trip to the beach. Slather on broad-spectrum sunscreen with a minimum SPF of 30 (per the recommendations of the American Academy of Dermatology). Sunscreen that's designed to be water-resistant is best. Reapply every two hours or after every swim.
This step is essential for every member of your family. However, sunscreen isn't advised for use on babies younger than 6 months. Young infants should be kept entirely out of the sun if possible, so bring or rent a sun canopy if you're beaching with babies.
Wear: A Coverup
The clothing that you wear over your bathing suit should be a little loose to allow airflow, and it should be light in both weight and color. A pair of athletic shorts and a tank top or a sundress might make comfortable coverups for every member of your family. But if the day is windy, you may feel cold in these clothes. Pack either a sweatshirt or cardigan for every member of your group, or wear coverups with a little more coverage.
If you plan to change out of your wet bathing suit at some point, make sure your coverup is something you're comfortable wearing over just underwear.
Wear: Sandals
The best beach shoes slip off and on easily and have openings to allow sand to flow out. Putting wet, sandy feet into sneakers is uncomfortable and causes friction that can lead to blisters. Study flip-flops are perfect if you and your kids plan to spend the day relaxing. But if you plan to get some exercise walking the beach, you might be more comfortable with a shoe that provides a little more support, like water shoes or athletic sandals—yep, they're a thing. Walking in sand is challenging, and these shoes will cushion your feet.
Wear: A Hat
Donning a hat lets you protect your skin, minimize squinting and improve your ability to see your kids at all times. Choose a sunhat with a wide brim that goes all around your head. You can find a collapsible version if you're vacationing at the beach and suitcase space is tight. Pack sun hats or baseball caps for your kids, too.
Don't Wear: Jeans
Nothing screams, "I've never been to the beach before" like wearing jeans onto the sand. A pair of denim cut-offs, maybe. But your boot-cuts and bell bottoms don't belong at the beach.
Don't Wear: Anything Dressy
Unless you're headed to the beach for a family photo shoot, don't wear your Sunday best on your trip to the sand. Save these pieces for dinners out and other dressy occasions. With melting ice cream, saltwater and bird droppings, there are too many ways to get messy at the beach.
References
Writer Bio
Cooking, travel and parenting are three of Kathryn Walsh's passions. She makes chicken nuggets during days nannying, whips up vegetarian feasts at night and road trips on weekends. Her work has appeared to The Syracuse Post-Standard and insider magazine. Walsh received a master's degree in journalism from Syracuse University.