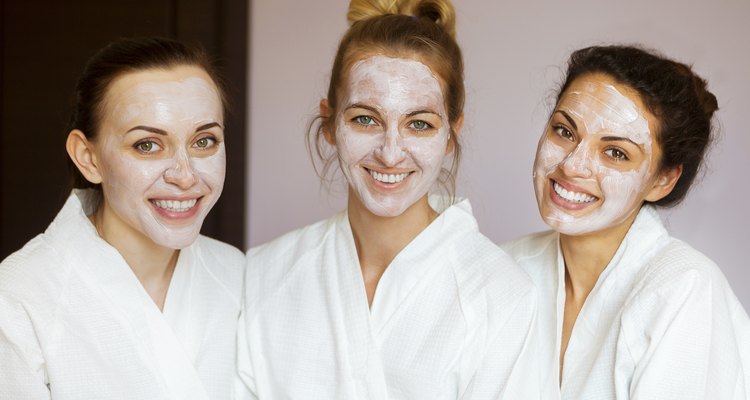 petrenkod/iStock/GettyImages
From Massages to Poolside Getaways: Making the Most of a Girls' Weekend
When busy schedules, long distances and big responsibilities make it difficult to keep your close connection, it's time to reconnect with a mother-daughter getaway. Fun, relaxation and escape from everyday interruptions are the top priorities when you head out for your girls' weekend. Check out these spas retreats to find the ideal atmosphere to capture the moments and memories you'll cherish long after your break is over.
European-Style Luxury in a San Francisco Bay Area Setting
Surrounded by trees in the East Bay hills, the Lafayette Park Hotel & Spa (3287 Mt. Diablo Blvd., Lafayette, CA) makes it easy to imagine you're princesses hiding away from the rest of the the world in your own royal chalet. You could even forget it's make-believe after a peaceful night's sleep in the graciously appointed guestroom, dining on the farm-fresh cuisine in the Park Bistro & Bar, and sipping a glass of wine on the patio. Don't worry—a mother-daughter curtsy to each other is perfectly acceptable behavior when you're wrapped in a cozy robe and ready for your spa session. Select a Lafayette Friends spa package that includes a facial, a massage for each of you plus a poolside lunch to continue the royal treatment. Or choose a individual spa treatments, lounge by the pool, then slip away for some retail therapy in town at Lafayette's boutiques, galleries and shops.
Savvy Traveler Tip: Fly into San Francisco International Airport, but before you go purchase an SFO BART voucher online. Upon arrival you'll get to skip long ticket lines at the Bay Area Rapid Transit station in Terminal G for the 1-hour ride to Lafayette station where the hotel's complimentary shuttle service will whisk you away on the short ride to rest and relaxation.
A Lifestyle Oasis in the Heart of Chicago
Decidedly modern and distinctively natural all at the same time, the Dana Hotel and Spa (660 North State Street 4th Floor, Chicago, IL) sets the tone for dropping pretenses to simply enjoy a shared experience. Perched in the middle of the trendy River North neighborhood in downtown Chicago where entrepreneurs and artists thrive side by side, it's not surprising the Dana has in-room iPads. The devices make it easy to reserve a table at the Freestyle restaurant, order room service or book a spa appointment while you're wearing cozy hotel-provided bathrobes and slippers, surrounded by comfortable, sleek, contemporary furnishings. Sink into you tranquility zone with a full spa package of aromatherapy massages, facials, manicures and pedicures. Or each of you can pick treatments ranging from a radiant salt scrub to a classic Swedish massage before you head three blocks over to shop Chicago's Magnificent Mile.
Savvy Traveler Tip: Taking the train from O'Hare or Midway International Airport is the least expensive way to get to the Dana, but you'll have to transfer trains once you're in the city and walk the final two blocks from the nearest spot to disembark. Start your getaway in less stressful style with a taxi ride for $30 to $50 or take an airport shuttle for about $15 to $30.
Hot Springs and History in the Ontario Countryside
Today it's a gracious countryside retreat just beyond the outskirts of Toronto, but a century ago the Millcroft Inn & Spa (55 John St., Alton, ON) building was a knitting mill. It's transformation from industry to hospitality hasn't removed the sense of place you feel relaxing in the elegant guestrooms, reclining by the indoor and outdoor pools, and dining by picture windows overlooking a roaring creek-fed waterfall. Far away from the hustle and bustle of everyday life, it's a place where moms and daughters casually share selections from the spa menu after hydrotherapy, massages, and beauty and body treatments that energize, balance and relax. A soak in the hot springs pool accented with a plunge in icy polar water and back into the steaming warmth again is a fine way to round out your adventure with a memorable moment of fun.
Savvy Traveler Tip: It's about an hour's drive through the scenic countryside to Millcroft Inn & Spa from downtown Toronto or Toronto Pearson International Airport. Six car rental companies have counters inside the airport, and others offer pickups and drop-offs at a parking garage which is connected by the Terminal Link Train. For total indulgence, prearrange a taxi or limo service to pick you up curbside and deliver you to the Inn's front door.
Pools, Patios and Pampering in Texas Hill Country
The all-inclusive experience is a big Texas triumph at Lake Austin Spa Resort (1705 S. Quinlan Park Rd., Austin, TX). You're covered for gourmet meals, luxury accommodations, and indoor and outdoor activities ranging from yoga and cooking classes to kayaking, paddle boarding and hiking. When you make your reservations, a spa and fitness allowance gives you access to relaxing and restorative treatments in the enormous, bright and cheery spa facility. Moms and daughters who fancy even more spa time can set up a customized package or add on services after check-in for an additional charge, but save enough time to simply linger by the lake to chat and catch up with each others' lives.
Savvy Traveler Tip: Go the full luxury vehicle route with a driver to escort you from baggage claim at Austin-Bergstrom International Airport to the resort. At about half the price, and possibly double the travel time depending on how many folks share the ride, you can take the SuperShuttle, or catch a taxi just outside the terminal door. If you prefer driving yourself, major car rental companies are located in their own facility just across the airport's east pedestrian bridge.
Peak Chocolate at Hershey, Pennsylvania
If you love chocolate, The Spa at The Hotel Hershey is for you. The Everything Chocolate spa experience ranks right near the top, perhaps at the peak, of all the memories moms and daughters can make on their own private getaway. A whipped cocoa bath, a strawberry parfait scrub with a chocolate fondue wrap, and a Sweet Hands manicure with chocolate sugar exfoliation and a chocolate massage are all on the menu. Accompany the delightful extravaganza with a stay at Hotel Hershey (100 Hotel Rd., Hershey, PA), the magnificent mansion Milton Hershey constructed on a hilltop overlooking his famous chocolate factory. Old World luxury is the hallmark of guestrooms, with goose down duvets and pillows, Egyptian cotton linens and comfy bathrobes for lounging. Onsite eateries include poolside, casual and fine dining, and yes, a coffee shop with awesome chocolate desserts.
Savvy Traveler Tip: Nestled in Central Pennsylvania rolling hills and farmland, Hotel Hershey is about a 2 hour drive from Philadelphia, Baltimore and Washington, D.C. The Harrisburg, Pennsylvania airport is just 20 minutes away, or you can take the Amtrak Keystone Service that runs from New York's Penn Station via Philadelphia to Harrisburg. Pick up a rental car at either arrival point or ask the concierge to help with shuttle arrangements when you make your hotel and spa reservations.
References
Writer Bio
Denise Schoonhoven has worked in the fields of acoustics, biomedical products, electric cable heating and marketing communications. She studied at Newbold College and Middlesex Polytechnic in the UK, and Walla Walla University. A writer since 2008, Schoonhoven is a seasoned business traveler, solo tourist, gardener and home renovator.