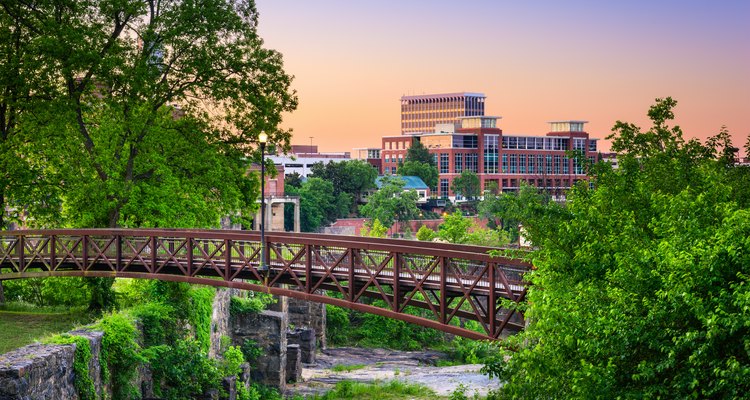 SeanPavonePhoto/iStock/GettyImages
A Peachy Time: 6 Kid-Approved Columbus Activities
By its very nature, Columbus, GA is a child's wonderland. Bubbling fountains throughout the city capture the imagination, and delights like Coca Cola and RC Cola had their origins here. Pick-it-yourself farms nearby let city kids discover the sun-kissed sweetness of peaches, blueberries, strawberries and other natural sweets straight off the plant. But there's more to do than nosh on peaches and sip on cokes all day—although your kids might be happy to do just that. Check out these kid-pleasing activities you won't want to miss.
1. Drink up Science at the Coca-Cola Space Science Center
There are days when you might want to send your kids into orbit. The Coca-Cola Space Science Center (701 Front Ave., Columbus, GA) is the next best thing. From toddlers to teens, the center rolls out activities for every age group. Kids will have fun exploring hands-on exhibits like interactive moon rovers and shuttle simulations. See astronaut memorabilia, space suits and an extensive collection of NASA space shuttle artifacts. Let tots explore the Kidspace where they can go hands-on with pint-size activities in a padded play zone. During the week, plan your trip for after lunch when school field trips head back to the classroom.
2. Immerse Yourself in Colorful Culture: Columbus Museum
Giving your child an appreciation for art means more than just strolling through the galleries at the Columbus Museum (1251 Wynnton Rd., Columbus, GA). Visit the museum's art cart on the second Saturday of each month to let young hands try a range of art mediums, go on gallery hunts and listen to art-related story adventures. While you're there, explore the free museum's many exhibits. Kids can get face-to-face with a life-size alligator, see inside a slave cabin or imagine what it was like to learn in a one-room school house. Create your own film in the Family Interactive Gallery or make a work of art for a take-home souvenir.
3. Get Out and Explore: Flat Rock Park
Pack a picnic and discover the wonders of nature at Flat Rock Park (6106 Warm Springs Rd., Columbus, GA). Take a stroll along wooded pathways or slide down a slippery natural water slide. The massive flat rocks that inspired the park's name flank Flat Rock Creek as it meanders through the park, creating areas where even toddlers can splash at water's edge with supervision. Plan a family bike trip to explore nine miles of wooded single track. The intermediate loop trail has several extensions for more advanced challenges. Tackle adventurous uphill and stair-step log climbs over obstacles.
4. Walk the Walk: Chattahoochee Riverwalk
Stretching 22 miles along the Chattahoochee River, the Columbus Riverwalk takes you through parks and public spaces while retracing the city's history. Delight in some of the city's ever-present fountains along the riverwalk or marvel at river rafters tackling large rapids at the city's downtown whitewater park. You can even try your skill on the river if you dare! Cool off with the kids at the splash pad at Woodruff Park (1000 Bay Ave., Columbus, GA) along the riverfront. Just steps away, oversized musical instruments lets kids or adults get their rhythm on.
5. Eat up a Slice of History: Lunchbox Museum
The soft vinyl lunch bags kids take to school today are a far cry from the hero-bedecked metal lunchboxes of just a few decades ago. Head to the Lunchbox Museum in the River Market Antique Mall (318 10th Ave., Columbus, GA) to explore the largest display of metal lunchboxes in the world. Retrace the metal lunchbox craze that took off in 1951 with Hopalong Cassidy and kept going strong for 35 years. With more than 2,000 lunchboxes on display, you're sure to find one that will bring back memories. You might even be able to buy a replica of your long-gone lunchbox at the museum.
6. Make Memories and More: Bare Ware Studio
Handcraft a souvenir that will remind you of your special time with the kids at Bare Ware Pottery Studio (3912 Woodruff Rd., Columbus, GA). Browse the studio's display racks of unpainted pottery, and pick your piece and paint! You'll get to choose from an extensive collection of brushes and paint colors to create just the right piece. After you're done with your souvenir, create one-of-a-kind items to give as holiday gifts. Bare Ware's blank slates aren't limited just to pottery items. Paint on canvas, pillows, bottles and more.
References
Writer Bio
Indulging her passion for vacation vagary through the written word on a full-time basis since 2010, travel funster Jodi Thornton-O'Connell guides readers to the unexpected, quirky, and awe-inspiring.