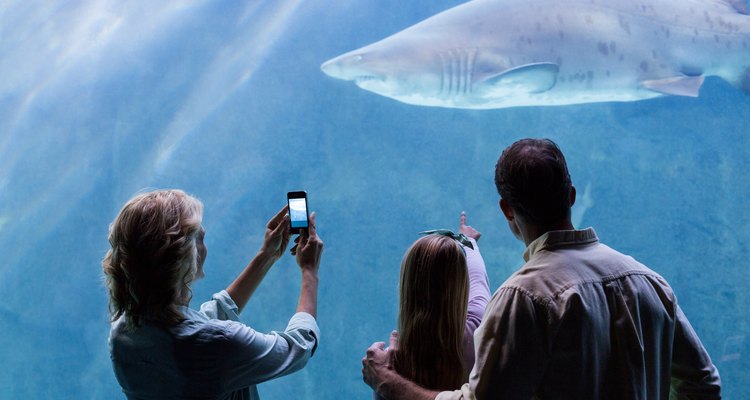 Wavebreakmedia/iStock/GettyImages
Beantown or Bust: Five Family-Friendly Outings in Boston
Packed with all the amenities you expect of a major city yet compact enough to explore afoot, Boston is a great destination for quality family time with kids. Spend those precious moments revisiting Paul Revere's legendary midnight ride, marveling at wildlife or learning about the cosmos. Expect the biggest crowds during the summer months, and note that winters in Boston can be harsh. That said, a variety of family-friendly indoor attractions means you'll have no trouble keeping little ones busy in New England's biggest metropolis—even when the weather doesn't cooperate.
Look and Do Touch: Meet Ocean Critters at the New England Aquarium
At the New England Aquarium (1 Central Wharf, Boston, MA), kids can see—and in certain cases, touch—some fascinating sea creatures. Peer into the four-story Giant Ocean Tank to catch a glimpse of loggerhead turtles and bonnet sharks and then head to the Shark and Ray Touch Tank to interact with gentle epaulette sharks and cownose rays. There are also plenty of animals here with an "aww" factor, including Atlantic Harbor seals and three distinct species of penguins: African, rockhopper and little blue. Admission to the aquarium is $28 for adults and $19 for children 3 to 11 years old. Children under the age of 3 get in for free.
Follow the Red Brick Road: Fun on the Freedom Trail
A hotbed of activity during the American Revolution, Boston is home to historic sites school-aged kids will recognize from their textbooks. Sixteen of those are found along the 2.5-mile walking route known as the Freedom Trail, connected by a line of red bricks. They include the Old North Church (193 Salem St., Boston, MA), where legend says Paul Revere had two lanterns hung as a warning that British troops were moving by water, and the Old South Meeting House (310 Washington St., Boston, MA), where the Boston Tea Party was planned. It is free to walk the trail, however there are fees to venture inside certain sites, including the Old South Meeting House and the Paul Revere House (19 N. Square, Boston, MA).
Learn and Create: A Day at the Boston Children's Museum
From learning about the anatomy of dinosaurs in the "Explore-a-Saurus" exhibit to discovering how bridges and tunnels are built in "Construction Zone," the Boston Children's Museum (308 Congress St., Boston, MA) has something for a variety of interests and learning styles. A perfect destination for a cold or rainy day, the museum also has an exhibit perfect for an impromptu bubble-blowing competition and an art studio where young patrons can express their creativity. The Japanese House exhibit allows visitors young and old to learn about life in Kyoto, one of Boston's sister cities. Admission to the museum costs $16 per person. Children under 12 months get in for free.
Reach for the Stars: Peruse the Museum of Science
Is there a budding chemist or biologist among you? Find out at Boston's hands-on Museum of Science (1 Science Park, Boston, MA), where attractions include a fossilized triceratops named Cliff, more than 100 live animals and an exhibit devoted to optical illusions.
Here young patrons can also recreate experiments done by Galileo and combine colored lights to produce new hues. For additional fees, you can take a stroll through the Butterfly Garden and take in a show at the Charles Hayden Planetarium. Admission to the museum costs $25 for adults and $20 for children between the ages of 3 and 11. The Butterfly Garden requires timed tickets that cost $6 per person. Planetarium shows cost $10 for adults and $8 for children.
Swan Lake: Go For a Boat Ride at the Public Garden
Summer is a popular time of year to visit Boston and the best time to experience one of its most iconic attractions, the Swan Boats in the Public Garden (4 Charles St., Boston, MA), the first public botanical garden in the country. After a stroll through the park, cool off with a ride on the garden's lagoon on a boat fashioned like a swan, a Boston tradition that dates to the 1870s. Rides last between 12 and 15 minutes and are available from mid-April through mid-September. Adults pay $3.50; kids pay $2. Children under the age of 3 ride for free. While at the Public Garden, snap a photo of your flock with Make Way for Ducklings, a bronze sculpture inspired by the children's book of the same name.
References
Writer Bio
Since beginning her career as a professional journalist in 2007, Nathalie Alonso has covered a myriad of topics, including arts, culture and travel, for newspapers and magazines in New York City. She holds a B.A. in American Studies from Columbia University and lives in Queens with her two cats.