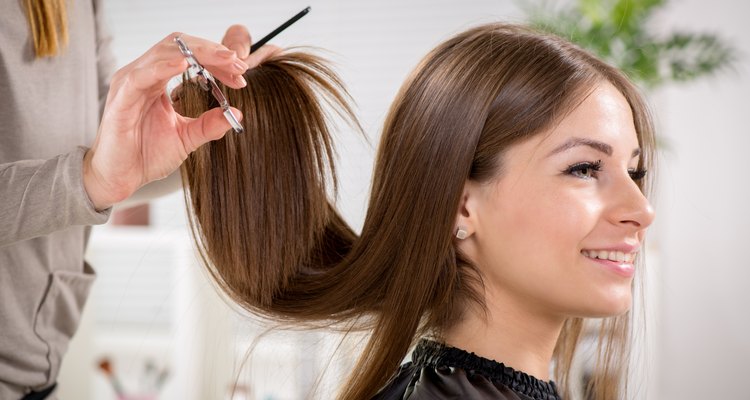 Milan Markovic/iStock/Getty Images
When styling coarse or curly hair into a straight style, reinforcements are necessary for lasting results. Often help arrives in the form of a relaxer, a lotion that smooths strands and makes hair easier to style. Although they last between six and eight weeks, relaxers can weigh down and dry out your hair. Hair isn't always as healthy when the relaxer wears off due to the chemical content. Consider other options for smoothing out your locks to find the best fit for your hair.
Keratin Treatment
Keratin treatments smooth hair for between one and three months, depending on the formula. Some keratin treatments straighten hair completely, while others remove frizz but leave curls intact. They cut down on styling time, and you can air-dry your hair to a frizz-free finish or blow-dry it. Consult with your stylist before deciding on a treatment, as she can recommend the best option for your hair type. Most keratin treatments available now are formaldehyde free. Washing your hair with a keratin-infused shampoo extends the results of your treatment.
Straightening Iron
Using a straightening iron on your hair straightens it until your next wash. Prep your hair by washing it with an oil-based shampoo and conditioner to smooth the cuticle. Pour a quarter-sized amount of hair oil into the palm of your hand and smooth it through the bottom 3 inches of your dry hair. Use a wide-tooth comb to distribute it. Oils deeply moisturize hair while coating it to protect it from humidity. Divide your hair into 2-inch-wide sections and pull a flat iron slowly over each section from root to tip. Use a flat iron with ceramic plates and pull it straight down for a pin-straight look or away from the face for volume. Go over each section three times for long-lasting results.
Silicone Creams
Silicone creams straighten the hair without heat. They are ideal for people with damaged or fine hair that doesn't respond well to chemicals or hot tools. Their heavy consistency makes them most effective on thick hair that only needs to be washed once or twice a week. Wash your hair and allow it to air-dry until it is 50 percent dry. Coat your hair with the cream from root to tip and use a wide-tooth comb to distribute it. After your hair dries, it stays straight until the next time you wash it.
Blow-Drying
Blow-drying requires the most work but results in smooth hair that maintains your natural volume. Wash your hair with a smoothing shampoo and conditioner, and gently squeeze the ends dry with a microfiber towel to avoid damaging the cuticle. Smooth a quarter-sized amount of hair oil to the ends and comb it through with a wide-tooth comb. When your hair is 70 percent dry, wrap 2-inch sections of hair around a natural-bristle round brush at the root and pull it straight up in the air through to the ends. Repeat until the section is dry and wrap it around a self-adhesive roller while it is hot. Use rollers between 2 and 3 inches wide to further smooth the hair. Leave the rollers in for 30 minutes before applying a coat of anti-humidity hairspray and removing them.
References
Writer Bio
Celeigh O'Neil has been writing professionally since 2008. She has a Bachelor of fine arts from the University of Ottawa, as well as degrees in fashion illustration/design, digital arts and certification in hair and makeup artistry. O'Neil was a frequent contributor to Toronto's "Dialog" newspaper and has worked as an instructional writer, creating lessons in fashion, art and English for students of all ages.
Photo Credits
Milan Markovic/iStock/Getty Images