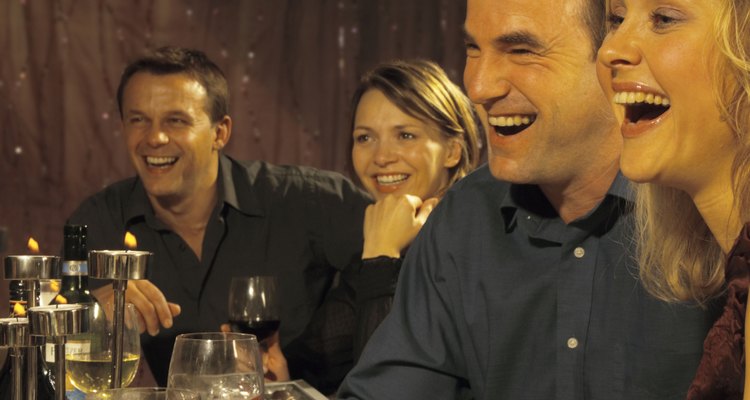 BananaStock/BananaStock/Getty Images
Knowing correct dress etiquette may seem like a daunting task, however, understanding phrases such as "evening casual" often helps decrease the confusion. When invited to a dinner party or company dinner, the host may ask you to dress in evening casual, sometimes called dress casual or evening informal. As a rule of thumb, avoid clothes you might wear when lounging around the house as well as clothes you might wear to a formal event.
Shirts
In most cases, evening casual essentially appears one step "dressier" than business casual. The most informal options for men's evening casual include polo shirts or other open-collar shirts; even these may seem too informal for some evening events. A dress shirt or other casual button-down shirt stands as the safest option for most occasions calling for evening casual dress. Long-sleeve shirts work best; for summer events taking place outdoors, a short-sleeve shirt may also make an appropriate choice. Shirts should be solid print and in dark colors for evening.
Pants
As a basic rule, stay away from jeans. Even dark-wash jeans fall outside the range of evening casual. Gray or black dress slacks, such as those you might wear with a suit, work best for most occasions. Khaki pants present another option but may be unsuitable for some evening occasions. Typically, khakis only work for early evening events and outdoor summer evening events. If you plan on wearing a polo shirt or other short-sleeve dress shirt, khakis may make an appropriate pants option; if you plan to wear a nicer long-sleeve shirt, opt for dress slacks instead.
Socks and Shoes
Keep your footwear relatively classy and professional. Most loafers, loafer-style shoes and leather shoes work well for evening casual. Be sure they match the shirt and pants you choose to wear. In spite of the "casual" aspect of evening casual, stay away from informal shoes such as sandals, hiking boots and tennis shoes or other athletic shoes. Wear dark socks matching the color of your shoes and that rise to your mid-calf. Avoid short socks that might show your skin when you sit down.
Other Elements
A jacket isn't required for evening casual occasions, however, if the weather calls for it, a seasonal sport coat or blazer makes a suitable option. Avoid formal suit jackets. Ties are optional. If you do wear a tie, stick to a standard tie with a subdued print in a muted color. Don't wear a bow-tie, these often appear too formal. Wear a conservative watch; avoid wearing a sports watch or anything that appears worn-down. Trim your facial hair, or, if you prefer to keep an unshaven look, keep your facial hair well-groomed.
References
Writer Bio
Caitlynn Lowe has been writing since 2006 and has been a contributing writer for Huntington University's "Mnemosyne" and "Huntingtonian." Her writing has also been in "Ictus" and "Struggle Creek: A Novel Story." Lowe earned her Bachelor of Arts degree in English from Huntington University.
Photo Credits
BananaStock/BananaStock/Getty Images