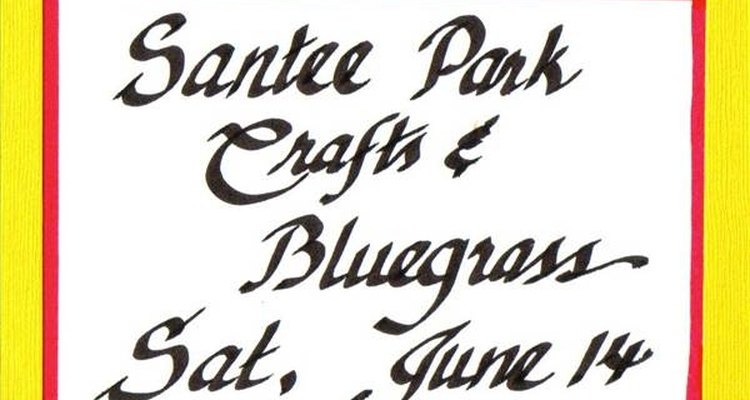 Image by Natasha Lawrence
Most communities sponsor events to celebrate holidays, raise funds for special projects or organizations, promote community networking, or for many other reasons. They can include crafts, music, children's activities, historic tours, demonstrations, rides, and food. They are social events that aim to provide the community's members a pleasant experience. Many are out of doors and can also include on-site buildings. Vendors are welcomed to sell all kinds of food and drink. The organizations that sponsor these events may benefit monetarily by charging vendors and attendees a fee for space or admission. These are also educational experiences for members of the community where firefighters, policemen, politicians and civic leaders are available to offer information of interest or benefit.
Significance
Community events can be major functions that bring people within a community together to spend a good part of the day enjoying themselves. Sometimes these events end late at night, such as a 4th of July celebration with fireworks as a finale. Attending these events can be inexpensive for families; many do not charge admission fees, parking can be free, the locale can be a short distance from home, and people can bring their own picnic baskets, lounge chairs or blankets. The purpose is to provide a convenient and pleasurable experience for all members of a family or group.
Types
Community events are often initiated on major holidays like Memorial Day, Labor Day, the 4th of July, and New Year's Day. Other events can include craft shows, concerts, county fairs, rodeos or just a day at the park where food vendors add to the enjoyment of the day. Another instance is Halloween. For example, Cypress Gardens, an historic park and former rice plantation in South Carolina, features an event called "Halloween in the Swamp." These are guided tours through the swamp on flat-bottom boats that include "ghosts" (scuba divers) who abruptly emerge from the black waters filled with alligators. It's all in fun and the lines are long with people wanting to take that "scary" ride every October.
Features
An array of food available for purchase at community events is one of the main ingredients for a successful function. This includes kettle corn, BBQ, funnel cakes, cotton candy, steak hoagies, hot dogs and hamburgers, to name just a few. Shady and comfortable areas, children's activities, restroom facilities and adequate parking are some of the features. There is a good amount of advance publicity to promote the event in local newspapers, websites and mailers. Successful events held year after year draw many people who plan to attend again and again.
Geography
Location for a community event may involve geography. Stone Mountain Park in Georgia is an example of the influence geography can have on planning an event. Its location is a beautiful mountain setting and the 4th of July celebration there features an impressive laser light show against majestic rock carvings. Other geographic considerations can include beaches, lakes, rivers and national parks. Even city parks or areas that offer parking, spacious areas for picnicking, places where musicians can perform, or where carnival rides can be set up, are viable considerations as well. An annual boat race on the ocean will draw crowds of people that come to watch sleek, fast boats while relaxing in a chair on the beach with a cool drink in hand.
Benefits
Community events are often family affairs that bring people together. They are also opportunities for members of the community to reacquaint themselves with civic leaders and the other people who serve them--like those who put out fires or protect their homes. Policemen with K-9 dogs may give demonstrations of what the dogs can do--something many people rarely have an opportunity to see. Firemen may display their fire trucks for children to sit in and explore.
Writer Bio
For over 25 years, Natasha Lawrence has written for publications from "Alaska Business Monthly" to "Savannah Magazine" and provided destination content as Florida city editor for Wcities. Her expertise in arts and crafts includes calligraphy, painting, mosaics, jewelry making, paper crafts and home decor, often offering workshops in museums and art centers.
Photo Credits
Image by Natasha Lawrence