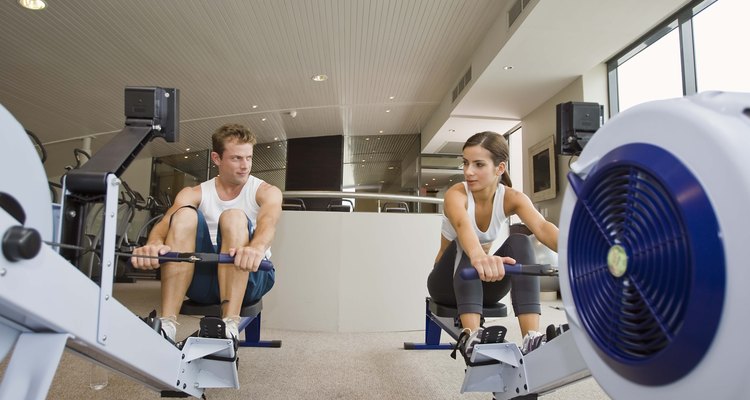 Jupiterimages/Goodshoot/Getty Images
Although you may be fantasizing of living out a romantic comedy and having a "meet-cute" where a chance encounter leads to true love, you may find that you're just going to have get out there and make your own magic. Fortunately, that's just what you can do if you're willing to take a chance and get creative.
Check Out Your Daily Haunts
Try approaching a male at one of your familiar hangouts. For example, your gym is a good resource (unless you're a member of a women's gym). Don't interrupt his workout; wait until after he is finished to approach him. A great place to start a conversation is at the water cooler in between workouts or at the juice bar. If you get your morning cup of joe at a coffee shop or get your lunch at the same sandwich shop every day, chances are that there's a man who frequents the same places you do. "Men are creatures of habit," says Jo Hemmings, psychologist and relationship consultant, in her book "Be Your Own Dating Coach." Use that to your advantage.
Consider Going Online
Many people are meeting online, whether through online dating sites, forums, social networks or gaming. About 35 percent of married couples met online, according to research published in 2013 in the "Proceedings of the National Academy of Sciences." Of the ones who did meet online, forty-five percent of them used an online dating site. But don't limit yourself to the popular sites. There are many niche dating websites that can narrow down your search, focusing on religion, ethnicities and shared interests. You can also meet someone with common interests through social networks like Facebook and Twitter, just like 20 percent of couples who met online, reports the survey.
Try a Professional Matchmaker
If you are willing to spend money on a matchmaker, you may be able to find a suitable companion. It can be pricey, but if you go to a reputable matchmaking agency, they will give you personalized attention and set you up with somebody based on your preferences. If you can afford it, it may be worth it to let a professional do the work of finding a man for you.
Give Speed Dating a Try
Speed dating is a fast way to meet a variety of men (around 10 to 30) in a short amount of time. Speed dating events are held not only in big cities, but also in smaller towns and suburbs. There is generally a fee that ranges from around $15-$60, depending on the event and whether it includes the price of a drink, notes Hemmings. Even though you only get a limited amount of time to get to know the person, you don't have to deal with personally rejecting any of the ones you're not interested in.
References
Be Your Own Dating Coach: Treat Yourself to the Ultimate Relationship Makeover; Jo Hemmings
Writer Bio
Sarah Casimong is a Vancouver-based writer with a Bachelor's degree in journalism from Kwantlen Polytechnic University. She writes articles on relationships, entertainment and health. Her work can be found in the "Vancouver Observer", "Her Campus" and "Cave Magazine".
Photo Credits
Jupiterimages/Goodshoot/Getty Images