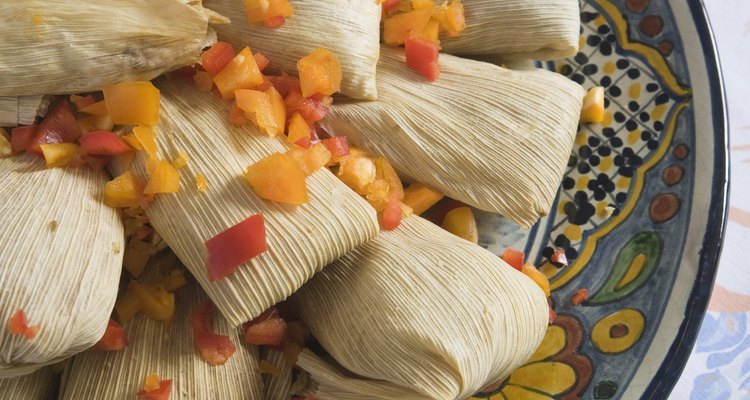 Jupiterimages/Comstock/Getty Images
To the people who love them, tamales are more than mere food; they're an art form. A soft dough—known as masa—and a meat or vegetable filling are wrapped in a dried corn husk before the tamales are steamed to perfection. The process isn't difficult, but it can be time-consuming. And because many people make dozens of tamales at a time, some people prefer to break up the process into two days so that they can store the tamales before steaming them.
Step 1
Split up your tamale-making process in one of two ways -- store the filled and wrapped tamales, or store the filling and wrap the tamales the next day. There is no "right" way to proceed, though some believe that a filled and wrapped tamale that is stored in a refrigerator gives the flavors time to congeal, resulting in a tastier tamale the next day.
Step 2
Place the filled and wrapped tamales in a 13-by-9-inch dish. Cover the dish with plastic wrap, then with aluminum foil. The wrapped tamales will be good for as long as two days in the refrigerator.
Step 3
To store just the filling, put it in an airtight plastic container and keep it in the refrigerator. The filling will be good for as long as two days in the refrigerator.
Step 4
When you're ready to cook the tamales, steam them for about 90 minutes over a medium flame. Extend the time for extra-large tamales.
References
Resources
Tips
Freeze leftover steamed tamales for as long as three months in an airtight container or plastic freezer bags. Steam frozen tamales for about 25 minutes before eating.
Writer Bio
Mary Wroblewski earned a master'sdegree with high honors in communications and has worked as areporter and editor in two Chicago newsrooms. She launched her ownsmall business, which specialized in assisting small business ownerswith "all things marketing" – from drafting a marketing planand writing website copy to crafting media plans and developing emailcampaigns. Mary writes extensively about small business issues, andespecially "all things marketing."
Photo Credits
Jupiterimages/Comstock/Getty Images