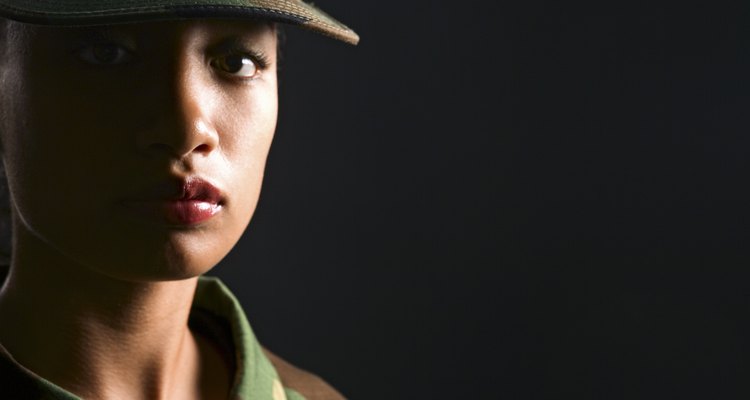 Jupiterimages/Comstock/Getty Images
If you've lost track of someone who has joined the U.S. Army, it is possible to find them. While the Army won't provide you with detailed information such as an e-mail address or a phone number, they will give provide you with an address where you can find the soldier you are looking for.
Step 1
Write down the basic information you have on the person in the U.S. Army. The only essential information you need is their name. However, information such as their rank, last known location, service number, and Social Security number can all speed up the process.
Step 2
Find out more information on the person through www.gisearch.com. Click on the link that that says "locate someone" on the homepage. It will take you to another page where you can type in the first name, last name, or nickname of the person you are looking for. This will provide you with that person's rank and current location.
Step 3
For information on how to contact the person you are looking for, send the information you have found and your request here: Commander U.S. Army Enlisted Records & Evaluation Center ATTN: Locator 8899 East 56th Street Fort Benjamin Harrison, IN 46249-5301 1-866-771-6357 Include $3.50 as a check or money order with the request if you are not an immediate family member of the soldier or a government official. Make it out to the U.S. Treasury and know that if the soldier you are looking for has restricted information with an address that can't be given out for any reason, you will not have the money returned to you.
Step 4
Wait up to four weeks for a response. The military location of the U.S. Army soldier you are looking for will be mailed to you. Follow the detailed information that you have been provided with. Just because a letter gets to the right base, that doesn't mean it necessarily gets to the right individual.
Resources
Tips
Be patient if you are not given the information you desire the first time. Soldiers in the U.S. Army are sometimes on classified missions, and the Army may have to wait until that mission is complete until they can tell you exactly where they are.
Writer Bio
J. Johnson has been completing freelance writing work since September 2009. Her work includes writing website content and small client projects. Johnson holds a degree in English from North Carolina State University.
Photo Credits
Jupiterimages/Comstock/Getty Images