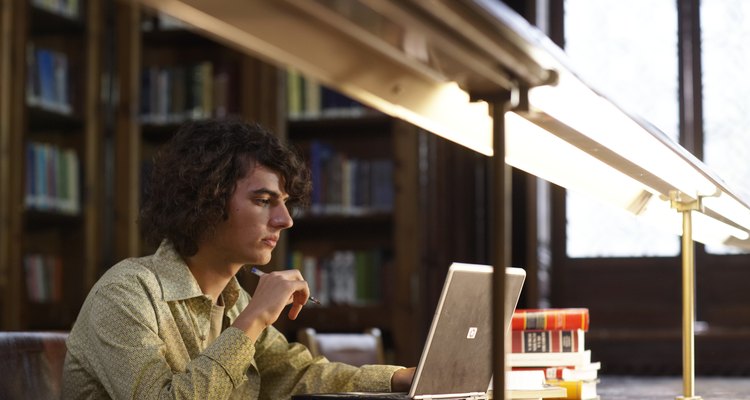 Nick White/Photodisc/Getty Images
The International Soundex Reunion Registry explains that family members fall out of touch when a child is put up for adoption, placed in foster care or when parents separate prior to a child's birth. Some dads fall off the radar if they didn't know your mother became pregnant. Why you have never met your father is a crucial part of how you will search for him. In adoption situations, some states will hand over your birth records by request. If your parents never married, you will be looking for someone who may not even know you exist.
Register with the International Soundex Reunion Registry. You can meet your biological father on mutual grounds by sending a signed registration form to ISRR, P.O. BOX 371179, Las Vegas, NV 89137. You need to download the reunion application on the ISSR website (See Resources). The ISSR will keep your file active until a match is made or if you request to have the case closed.
Request your adoption records if you were born in an "open record state." Adopting.org reports that Alabama, Alaska, Kansas, New Hampshire and Oregon will give you copies of your adoption documents upon request. Other states also provide adoption records with some restrictions. Go to Adopting.org to research the adoption-record laws of your state (See Resources).
Work with a "search angel" to find your birth dad. Search angels are volunteers that help people find anyone they're searching for. A search angel group uses online tools to locate people. They'll use library resources, including city directories and birth record databases. Some search angels, according to Adoptions.com, have purchased databases that aid in finding people. Adopting.org has a list of angel search groups as well as a list of volunteers by state.
Search the Federal Bureau of Prisons inmate locator. You will need to know how your father's name appears on his birth certificate. If he is in the BOP's system, it will tell you where he is incarcerated or from which prison he was released from, which will indicate his last known state of residence.
Search city directories at your local public or university library. These books, a lot like phone books, contain listings for individuals and business, including an address and phone number. You will need your father's last name and an approximate year of birth. Shea's Search Series recommends looking in city directories within a 150-mile radius of your father's hometown at the time of your birth. You can also search for your father using his parents' names.
Send a letter of request for your medical records to the hospital you were born in. The hospital should have an official website with instructions for obtaining your records. You will need your name, date of birth, social security number, date of hospitalization and a contact phone number. Include a check for the fee. For any information you are unsure of, Shea's Search Series suggests scribbling illegibly any information that you do not know, such as first names.
Search obituary listings. Legacy.com is a website that compiles obituaries from more than 800 worldwide newspapers. They also have a partnership with 120 newspapers from the United States.
References
Writer Bio
Shannon Marks started her journalism career in 1994. She was a reporter at the "Beachcomber" in Rehoboth Beach, Del., and contributed to "Philadelphia Weekly." Marks also served as a research editor, reporter and contributing writer at lifestyle, travel and entertainment magazines in New York City. She holds a Bachelor of Arts in literature from Temple University.
Photo Credits
Nick White/Photodisc/Getty Images