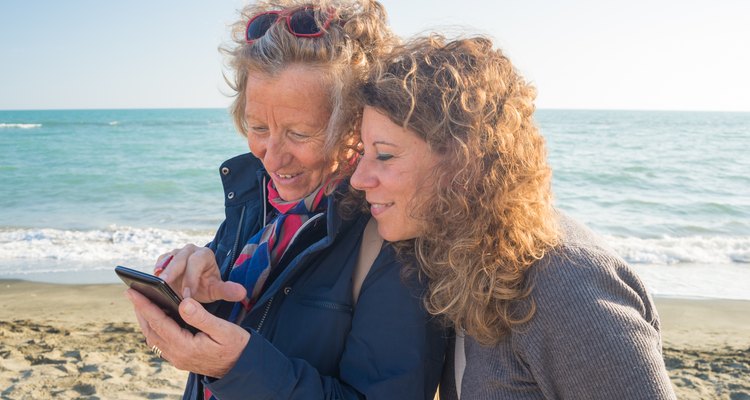 fabio lamanna/iStock/Getty Images
Tracking down old school friends is not only a great way to widen your social circle, but it can give you an opportunity to rediscover a part of yourself. Irene S. Levine, Ph.D. writes in "Psychology Today" that rediscovering a friend you have a shared history with can be a treasure. Children you were friends with between the ages of 5 and 11 will know your parents and siblings in a different way that your older friends do. They'll also be familiar with the neighborhood you grew up in and will have been there for a lot of your firsts.
Type the person's name into Pipl. This comprehensive people-search website culls information from the same sources as your typical search engine, but Pipl also does a "deep web" search that provides content from databases and documents that ordinary web crawlers can't get to. Pipl will also identify where the information came from so you can continue following the lead.
Search for a friend on a people-search site like ZabaSearch or Intelius. These sites will provide you with the person's last known addresses and phone numbers. It will also provide the person's immediate relatives, including a spouse.
Send a letter to your friend's last known address. The post office will forward the letter to a new address if the person moved within a specific time frame.
Search for your friends on social and professional networking sites. Facebook, MySpace, Linkedin and Twitter have millions of members here and abroad. Since not everyone is keen on having a profile on these sites, see if your friend's spouse or siblings have a profile and ask if that person will pass a message on to your friend.
Start an alumni group for your elementary school and year on Facebook. Anyone can start a fan page. You can also search for other fan pages about your elementary school or hometown. Use keywords like "I grew up in Northeast Philadelphia," or "I went to Loesche Elementary School in Philadelphia in the 1970s."
Post a note on your hometown's Yelp.com bulletin board. Let people know that you're looking to reunite with old elementary school friends.
Search your high school alumni web page for people you went to elementary school with. Your high school will most likely have a page on its website for each graduating class.
Search the Social Security Death Index. Type in your friend's name. Narrow your search further by typing in his hometown or birth date.
References
Writer Bio
Shannon Marks started her journalism career in 1994. She was a reporter at the "Beachcomber" in Rehoboth Beach, Del., and contributed to "Philadelphia Weekly." Marks also served as a research editor, reporter and contributing writer at lifestyle, travel and entertainment magazines in New York City. She holds a Bachelor of Arts in literature from Temple University.
Photo Credits
fabio lamanna/iStock/Getty Images