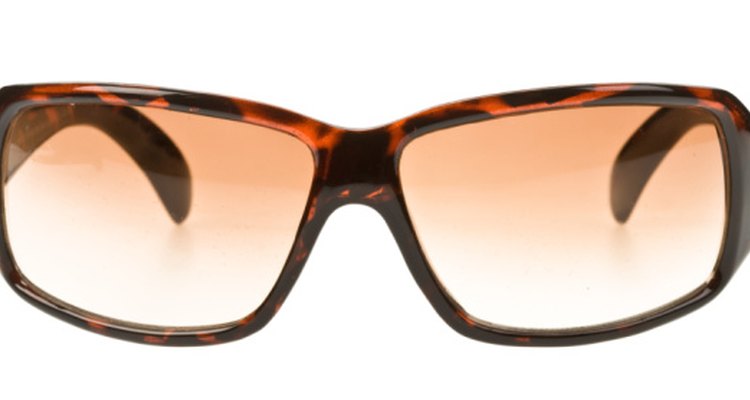 Jupiterimages/PhotoObjects.net/Getty Images
If your Persol sunglasses are broken or scratched, chances are you can repair them and avoid the cost of replacement sunglasses. Persol Eyewear handcrafts its famously chic sunglasses, making them quite expensive. Repairing yours makes financial sense. Persol does offer a one-year warranty for manufacturing defects, but this does not cover everyday wear and tear or mishandling.
Buy a repair kit. Use a low-cost repair kit to replace missing screws or nose pads, or to tighten the bows. These kits are available at drugstores and other stores that sell glasses. Your kit will include replacement screws, a small screwdriver, tweezers and replacement nose pads. The kits cost as little as $1.99, as of November 2010.
Order genuine Persol spare parts. If you're replacing bows, nose pads or temple pads, you may want to use original Persol parts, as these are designed specifically for your glasses. You can order Persol spare parts online from authorized vendors, such as Sunglasses Centre (see Resources). Use your repair kit to attach spare parts.
Fix cracked frames with quick-bond adhesive. Gently sand broken edges so the glue will adhere completely. Once you've applied the glue and aligned the edges of the crack, clean any drips with a cotton swab saturated with rubbing alcohol or nail polish remover. Let your sunglasses sit for at least two hours before using them.
Repair lens scratches using toothpaste or metal polish. If your lenses are scratched from normal use, you can spread toothpaste on the clean lenses and let it dry. Then clean the lenses with a mild soap and water, and dry with a soft cloth. If toothpaste is not effective, repeat the process with metal polish, such as Brasso.
References
Writer Bio
Sheila Kelly began her career in journalism in 2010 after 15 years as a civic activist and homemaker. In the 1990s Sheila worked as a film producer. She writes about budget travel and Latino culture. Kelly received a Bachelor of Arts from Vanderbilt University in history and Spanish.
Photo Credits
Jupiterimages/PhotoObjects.net/Getty Images