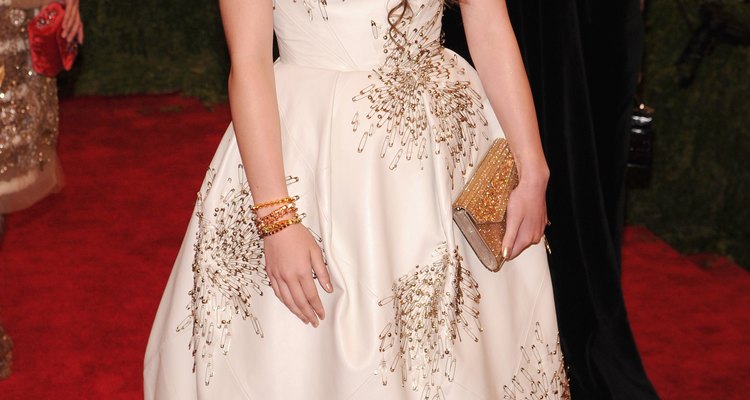 Jamie McCarthy/Getty Images Entertainment/Getty Images
Afternoon tea -- sometimes dubbed "high tea" by those not native to the Queen's country -- may have a stodgy reputation, but it actually offers a wonderful chance to relax. Look at afternoon tea as an opportunity to break out those fancy dresses you only got to wear once; while many modern tea venues skew toward a more casual look, afternoon tea lets you put your best fashion forward, so seize the opportunity to shine.
Dashing Dresses
The United Kingdom Tea Council calls dresses "the ultimate solution" for afternoon tea. The fitted, frocked tea dress with a densely detailed print, such as a paisley or nature print, will never go out of style in the tea room, and floral prints remain perennial. For a more contemporary look, mini-dresses -- such as long-sleeved and blouson styles, nothing too revealing for tea time -- and column dresses also work wonderfully, as do taffeta dresses for a more elegant and formal tea date, so long as the gathering is simple and subtle. For a middle-ground, try a simple, white, lace tea dress. There are no hard rules on colors, but keep them refined; pass on neons and primaries in favor of pastels, deep hues and jewel tones. Formal flats or heels are both acceptable, just no stilettos at high tea.
Alternative Options
Pencil skirts provide a sleek, refined look for the tea room, but mini-skirts are a bit too racy. Slacks serve just fine, especially when paired with a classically styled blouse or a formal knit. You can also choose a pant suit for more business-oriented tea times. For a striking look in chillier weather, pair your slacks with a warm and streamlined brocade coat or a women's pea coat. If you have a thing for hats and gloves, now's the time to sport them -- just be sure to slip the gloves off before sitting at the table. For contemporary venues, sleeker head wear -- such as pillbox hats and styles with more conservative brims -- are a safe bet.
Men at Tea
Always check your venue's jacket requirements before attending afternoon tea -- although contemporary tea venues, especially stateside, don't always require a jacket and tie, it doesn't hurt, especially if you have a dressed-up date. Classic navy blazers and tweed jackets fit the bill. If you pick up on a more casual vibe, neat, well-fitted jeans with a button-up dress shirt can work, again depending on how well you complement your date and whether or not the establishment has a no-jeans policy. Stick with leather dress shoes or well-polished penny loafers -- scuffs are a no-go for afternoon tea -- and steer clear of sneakers, hats or athletic clothes.
Go Vintage
For either gender, vintage styles have stood the test of time in the tea room. Ladies should feel free to spring for '50s-style floral dresses and pearls with a dash of red lipstick -- or, choose a fitted blouse with a Peter Pan collar, a full skirt and a pair of ballet flats. Deep-navy, mint and dark-red colors evoke this era. Men look downright dapper in fitted suits and skinny ties. Texturize this look with tweed or houndstooth materials, a streamlined tie bar and the addition of a waistcoat or two-toned shoes.
Mind the Details
For accessories, ladies can keep it simple with formal shoes -- flats or heels are fine -- a clutch or small bag, and subtle jewelry such as earrings, brooches, necklaces or rings. Steer clear of jangly jewels, though, to prevent embarrassing clinks. Avoid linens, which crease easily when sitting, and stick with fabrics that are easy to clean in case of tea stains.
References
Resources
Writer Bio
With a diverse professional background and a decade of experience as a freelance writer, Dan has contributed lifestyle content -- from fashion to travel to fitness and more -- to publishers including Chron, Fortune, Sony, GlobalPost, ModernMom, Moviefone, Salon.com, Techwalla and dozens of others.
Photo Credits
Jamie McCarthy/Getty Images Entertainment/Getty Images