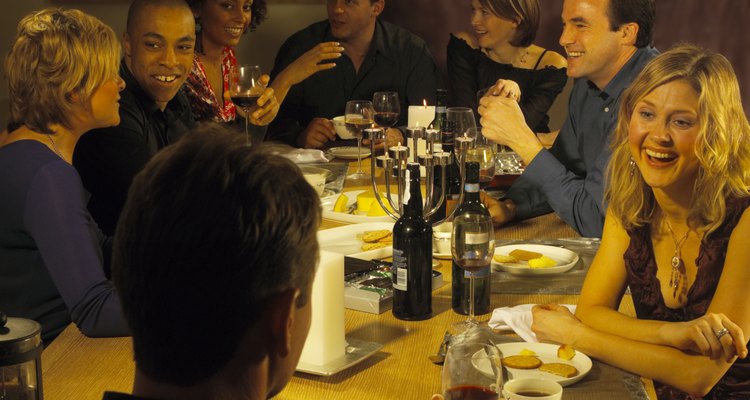 BananaStock/BananaStock/Getty Images
Entertaining doesn't have to come to a stop just because the budget is tight. A little tweak of the menu and you can serve up a big dinner party with pride and without breaking your bank. Your guests will never know how tight your budget is as long as the food tastes rich.
Deviled Egg Appetizers
For under $5, you can whip up appetizers for 20 people. Two dozen eggs are enough for 48 deviled eggs since you cut them in half. Spice up deviled eggs by reducing or nixing the mayonnaise and replacing it with creamy ranch or blue cheese salad dressings. Whip your egg yolks with a hand blender to make them luxuriously creamy and pipe them back into the egg white, then load them on a platter. If you have paprika in the spice cabinet, finish the eggs off with a tiny sprinkle for a pop of color.
Serve Soup
A lot of people cut the soup course at their dinner party, but this extra course can be a low-budget way of filling your guests. Plan far enough ahead to keep your family's leftover chicken bones so you can make an 8 quart pot of stock for mere pennies. Thin slices of carrot and celery go a long way in flavoring your soup, and one bunch of each will be enough for the crowd. A pound of beans only costs a dollar and makes a heartier soup. Use smaller soup cups instead of large soup bowls so a small serving it will seem like more.
Portion Control
When serving the main course, make the meat the sidekick rather than the star of the meal. Instead, make grains the main attraction. Grains are cheap and filling, and a small amount of meat will go a long way in adding flavor. Pasta never misses. One pound of linguine or vermicelli costs about a $1.50, but yields 4 cups of cooked pasta, enough for four guests. Add some ground beef or thin-sliced sausages to the sauce, about 1 or 2 ounces per person, for the meat flavor. Consider a rice dish. Mix in some cubed chicken with a flavorful butter sauce, or stir-fry some frozen vegetables to toss into it.
Desserts
End the meal on a high note with a delectable dessert. Whip up an inexpensive vanilla or angel's food cake from scratch. You'll pay half the price for the ingredients than you would if you purchased a cake. A dollop of whipped cream, some shaved chocolate and a spoonful of macerated frozen strawberries are delicious cake toppings, and each ingredient can be stretched to accommodate your crowd. Alternately, stop by the local mega-mart for a bulk-sized bag of frozen fruit, blend it with just a little juice and sugar so it is a very thick consistency, and you'll have enough homemade fruit sorbet to go around.
References
Photo Credits
BananaStock/BananaStock/Getty Images