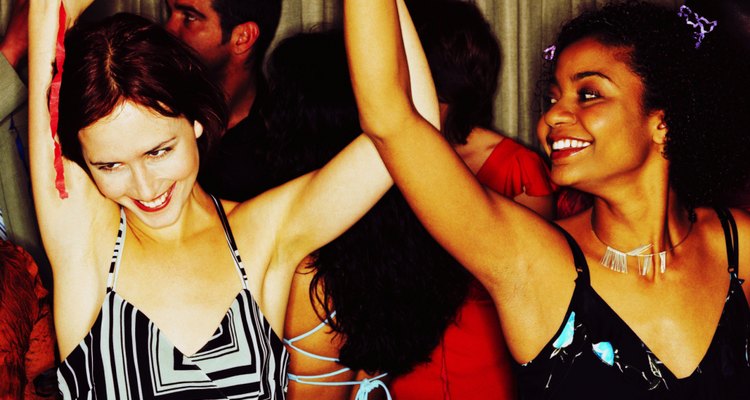 George Doyle/Stockbyte/Getty Images
A black and white dress is classy and versatile. You can use accessories to add color to a black and white dress or to achieve a high contrasting black and white look. Accessories can also dress up a casual dress or dress down a formal one to help you adapt your look for different occasions.
Dressing it Up
Add color to your black and white dress for an evening occasion. Choose a soft color like mint, coral or lavender for your shoes and your purse or clutch. The black and white will make the soft hue pop more than it normally would. Depending on the style of the dress and the occasion it's being worn for, most bold colors like red or cobalt will look too loud when paired with a black and white ensemble. Peep-toe heels, stilettos, or platforms would make your dress more appropriate for a fun night out. You can also make your look more formal and sophisticated with black dressy heels, chandelier earrings and a crystal teardrop statement necklace.
Dressing it Down
If your dress feels too elegant or formal to wear on a normal day at school or work, dress it down a little with casual but nice accessories. Cover your skin with a small cardigan and a thin floral scarf. Use soft colors for your shoes, bag and jewelry.
Classic Black and White
The classic black and white style often includes shades of grey. You can use accessories to make stark black and white contrasts. For example, if your dress is white at the top, wear a black teardrop statement necklace or other bold black necklace. You could also try tribal inspired jewelry that has black and white or zebra patterns. Try adding a black faux snakeskin purse or clutch to complete your outfit.
Belts
Black has a slimming effect, so you can play with a solid color dress to create the appearance of a smaller waistline. Try wearing a wide black belt over a white or white and black dress. Wide belts are worn at your natural waistline. They make your waist look thinner and your body more curvaceous. To add texture to your outfit, use a vinyl or faux crocodile or snakeskin belt. Skinny belts are fashionable accessories that you can use to add color and style. Use a brightly colored skinny belt to add a small pop of color to your black and white dress. It can look good worn tight around your waistline, or low and loose around your hips over a jersey dress. Match the belt color with your shoes to add more color.
References
Writer Bio
Lindsay Haskell enjoys writing about fitness, health, culture and fashion. She is a contributor for "Let's Talk Magazine" and "The Wellesley News." Haskell is completing her B.A. in philosophy at Wellesley College. She's also a fiction writer whose work can be read online.
Photo Credits
George Doyle/Stockbyte/Getty Images