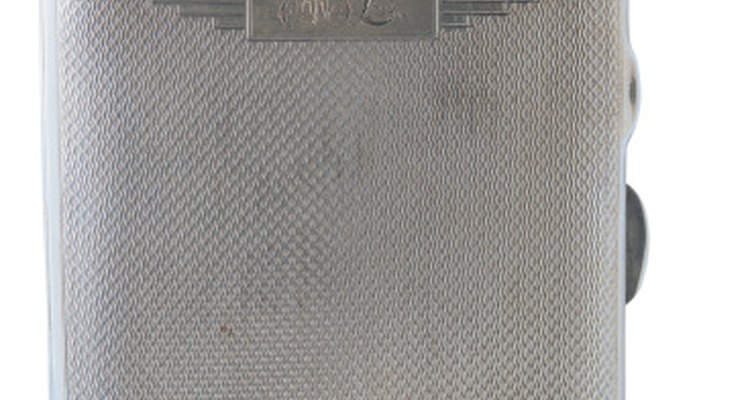 Stockbyte/Stockbyte/Getty Images
Cigarette smoking is no longer considered to be fashionable. Now that people are aware of the health hazards of smoking, many are trying to quit. However, not many ex-smokers want to let go of their old cigarette cases, probably because of sentiments. Additionally, these cases are quite alluring. When you quit smoking, you can make new uses of old cigarette cases. At least, the temptation to return to the tobacco sticks will diminish once the old cigarette cases are used for storing something other than cigarettes!
Types of Cigarette Cases
Cigarette cases were made from a variety of materials, like wood, silver and enamel. The majority of the old cigarette cases were decorative, and some were even made from gold and precious stones. Modern-day cigarette cases are made from gold, silver, brass, aluminum, leather and plastic. Some of the cases come with artwork, but many of them are monogrammed, especially those made from metal. There are different types of cases available for men and women. Even the sizes and shapes of the cases differ. Some are big enough to accommodate around 10 to 20 cigarettes. Some are shallow, while others are deep.
Old Cigarette Case as Business Card Holder
Whether you are an ex-smoker or non-smoker, you can use cigarette cases for a multitude of things other than storing cigarettes. Old cigarette cases are excellent for carrying your business cards. The depth of the case allows you to carry more business cards than a traditional business card holder.
Old Cigarette Case as Makeup Box
Use an old cigarette case to get rid of the clutter your purse. Take a cigarette case that is deeply recessed to store your everyday makeup in it. Use the case to carry eyeliner, rouge and eye shadow without any problems. A little bit of ingenuity will help you carry your makeup in your clutch bag or a small purse without seeming too bulky.
Old Cigarette Case as Sewing Box
A deep and slightly large cigarette case can be converted to house needles and thread. Using a little ingenuity and time can give you a needle case to carry around the house or even to the park without worrying about losing the needles.
Writer Bio
Bernard Yao began his career as a technical writer and consultant in 2000. His specialties include Web technology, fitness and travel. Yao has traveled throughout the US and 10 other countries. He received a Bachelor of Science in computer science from the University of California, Irvine, where he earned industry certifications from IBM and Sun Microsystems.
Photo Credits
Stockbyte/Stockbyte/Getty Images