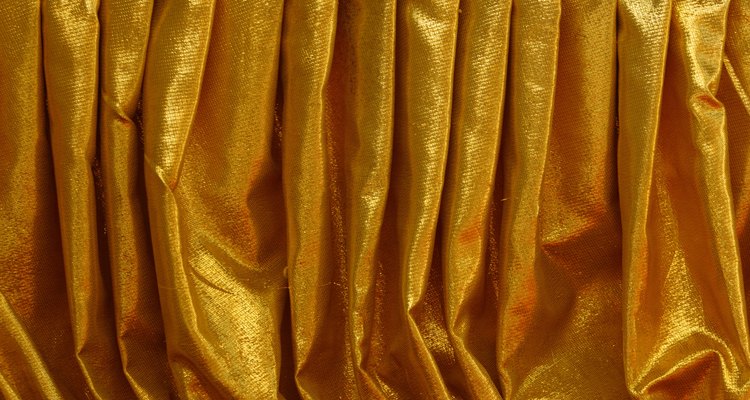 Hemera Technologies/AbleStock.com/Getty Images
A homemade, full moon costume is an inexpensive way for budget-cautious moms to outfit a child for a masquerade party or a cameo role in the preschool play. This no-sew costume is the perfect solution for an overloaded schedule. Making an easy-to-wear homemade outfit ensures that the price is right and that the costume is comfortable.
Choosing the Background for the Costume
Your little diva can probably take one look at a ready-made costume and decide it's itchy and uncomfortable. (You've already decided it's overpriced!) Choose a plain black t-shirt or soft turtleneck to prevent the complaints and pleas of "Can't I take it off now?" Plain t-shirts are relatively inexpensive and are available at discount, craft and clothing stores. Add a pair of comfy black leggings or sweatpants for the bottoms. This ensemble creates the look of a night sky, ensures comfort for your little tyke and is appropriate for both sexes.
Making the Costume
Since you don't want your tot to experience a lunar eclipse, add some pizazz to the full moon costume with shimmery fabrics and a touch of glamor. Almost every child and adult likes to sparkle on occasion. The full moon should be the focal point, but adding twinkly stars makes it pop! Use some shiny gold and silver fabric scraps to create the moon and stars. Another option for the stars is to use white shiny fabric. Satin, lame and polyester fabrics are slinky and shiny choices for the shapes. Trace around a saucer or upside down bowl with a piece of chalk to create the circle for the full moon shape. The circumference should be about 6 to 8 inches, depending on the size of your little masquerade artist. Draw a small star shape on a piece of cardboard and then cut it out to use it as a template for the stars. Using fabric glue or a low-temperature glue gun is a quick way to attach the moon and stars without having to sew.
Safety Issues
Although a low-temperature hot glue gun is the quickest way to attach the moon and stars for harried moms, the tool is not safe for use by young children. Many toddlers and preschoolers are budding artists and enjoy being mom's helper. If this is the case, use fabric glue to allow your tot to participate in the costume making process. Taking part in the creation helps give your child a feeling of accomplishment and a sense of pride.
Allowing Your Youngster to Help
If your child wants to take credit for the costume making and is 4- or 5-years old, she can help you squirt the fabric glue on the backs of the cutout stars and moon. Show her how to squeeze the glue bottle gently so that only a thin stream comes out of the bottle. If your child is too young to assist in this way, ask her to point out places on the top and bottom where she wants the stars. Another way she can help is to glue the stars on the outfit randomly and allow them time to dry. Spread the fabric glue in a thin layer on top of random stars. If you're really brave, allow her to shake a glitter bottle over the stars before the glue dries to add more sparkle. Since glitter can survive a nuclear attack, shake the shirt carefully over a trash can (or better yet -- outside!) to get rid of the excess. Now it's time for your darling to shine.
References
Writer Bio
Chelsea Fitzgerald covers topics related to family, health, green living and travel. Before her writing career, she worked in the medical field for 21 years. Fitzgerald studied education at the University of Arkansas and University of Memphis.
Photo Credits
Hemera Technologies/AbleStock.com/Getty Images