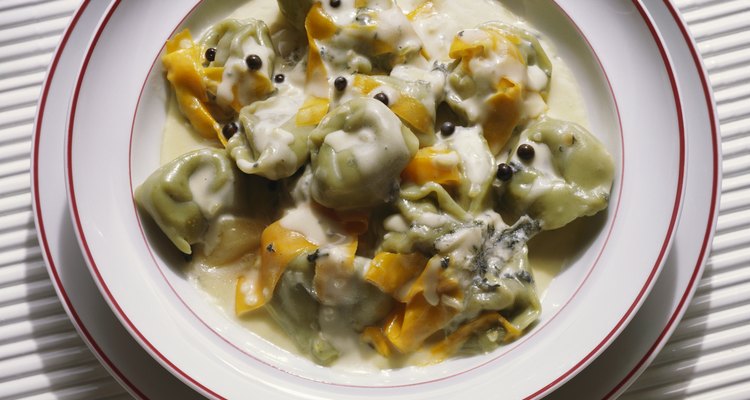 Eising/Photodisc/Getty Images
The abundance of high-quality, chopped frozen clams is a guarantee that you can satisfy your shellfish craving year-round. Make a classic white clam sauce that tastes as crisp and vibrant as anything freshly harvested from the sea. A well-prepared clam sauce starts with a fish veloute. Veloute, which means "velvet" and references the sauce's texture, serves as the base for hundreds of variations, including numerous shellfish sauces. You can use a white clam sauce with pasta to make a quick linguine and clams, or use it as a topping for poached or steamed fish and even as a condiment for fish and chips.
Step 1
Transfer the clams from the freezer to the fridge a few hours before you start the sauce or even the night before. It takes about two hours to defrost 1 pound of clams. Place the package in a bowl so it won't cross-contaminate other foods.
Step 2
Cook white mirepoix, or two parts small-diced white onions to one part each small-diced celery and leek, in butter or oil in a saucepan over medium-low heat until soft and translucent, about 12 minutes.
Step 3
Bring low-sodium or sodium-free fish stock to a low simmer in a separate saucepan and have it at the ready.
Step 4
Add equal parts fat and flour to the white mirepoix to make a roux. Cook the roux until it turns blond and smells lightly toasted, stirring occasionally with a wooden spoon, about 15 minutes.
Step 5
Raise the heat to medium and pour the simmering fish stock to the roux. Whisk the roux and stock vigorously as soon as the stock hits the saucepan and don't stop for at least 30 seconds.
Step 6
Add a sachet d'epices to the fish veloute -- the thickened fish stock is now a veloute -- consisting of a few aromatic fresh herbs and spices. A classic sachet d'epices comprises a thyme sprig, three or four parsley stems and one or two black peppercorns wrapped up in cheesecloth and tied with twine. Alternatively, you can add any whole spice or herbs that goes well with seafood, such as fennel fronds, dill and star anise, to name a few.
Step 7
Simmer the veloute for 20 to 25 minutes and season it to taste with kosher salt and white pepper. Strain the veloute into a bowl through a cheesecloth-lined sieve. Press on the solids that remain in the sieve with the back of a spoon. Set the veloute aside.
Step 8
Drain the defrosted clams in a colander placed on top of a bowl and transfer them to a separate bowl. You'll use the clam juice to thin out the sauce, if needed. Blot the clams with paper towels to remove excess moisture and set aside.
Step 9
Reduce a cup or so of dry white wine by half in a saucepan over medium heat. Heat a cup or so of heavy cream over low heat in a separate saucepan and hold it warm until needed.
Step 10
Add the fish veloute to the wine after it reduces and whisk until homogenous. Stir in the clams and bring to a low simmer.
Step 11
Simmer the sauce for about 15 minutes and adjust the consistency as needed with the reserved clam juice.
Step 12
Set the heat to low. Stir the sauce to help it cool and add the heavy cream. Add fresh herbs to the sauce, if desired.
Step 13
Season the clam sauce to taste with kosher salt, white pepper and freshly squeezed lemon juice. Turn off the heat.
Step 14
Add about a tablespoon of butter to the sauce and swirl it in the saucepan to incorporate. Serve the sauce after the butter melts.
References
Tips
You can substitute chicken stock for fish stock when making the veloute.
You can use freshly ground black pepper instead of white pepper, if desired. White pepper tastes like black pepper, but it's used in white sauces for appearance only.
The first 30 seconds are the most crucial when adding a stock to a roux. You have to add all the stock you want to thicken at once and whisk vigorously, because the starch granules only gelatinize during the first 30 to 45 seconds. Roux hits its full thickening power at around 180 Fahrenheit and then needs about 10 to 15 minutes for the starchy taste to cook out.
Writer Bio
A.J. Andrews' work has appeared in Food and Wine, Fricote and "BBC Good Food." He lives in Europe where he bakes with wild yeast, milks goats for cheese and prepares for the Court of Master Sommeliers level II exam. Andrews received formal training at Le Cordon Bleu.
Photo Credits
Eising/Photodisc/Getty Images