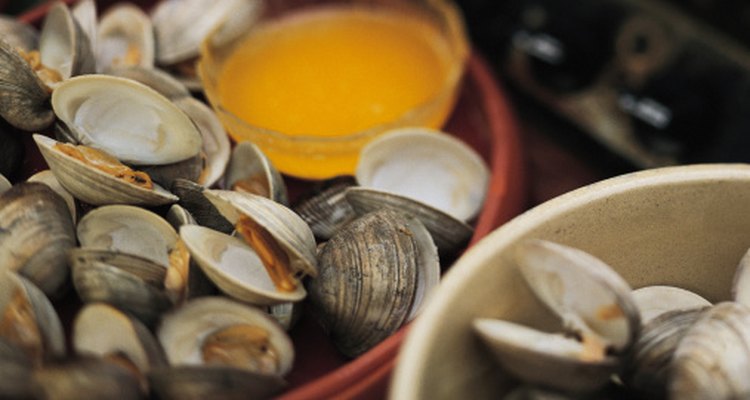 Comstock/Comstock/Getty Images
Juicy, sweet littleneck clams are a favorite for appetizers and entrées across the country. Littleneck clams are a small clam, about 2-inches across, which makes them a favorite because the meat is a small morsel that is easy to eat. In addition, lttleneck clams served in their shells make an elegant presentation atop pasta or served in white wine sauce. These clams can be eaten raw, but they are typically steamed in a small amount of liquid or baked.
Steamed Littleneck Clams
Scrub the clam shells with a stiff brush to remove any sand or debris from the shells.
Add the olive oil to the Dutch oven, and turn the heat to high. When the oil is hot, add the garlic and red pepper flakes, if you are using them. Reduce the heat to medium-high, and sauté until the garlic begins to pop in the pan.
Add the carrots, celery, onion and bay leaf, and sauté until the onions begin to turn translucent. Add the clams and the white wine, and simmer for one minute, stirring with the slotted spoon to coat the clams in the sauce.
Cover the pot. Simmer the clams for eight to 10 minutes, or until most of the clams have opened. Discard any unopened clams, and remove the bay leaf.
Garnish the clams with parsley and lemon wedges, and serve them hot with the sauce from the pot and bread for dunking. Or add the prepared clams to pasta or another dish.
Baked Littleneck Clams
Preheat the oven to 475 degrees Fahrenheit.
Scrub the clam shells with a stiff brush to remove any sand or debris from the shells.
Place the clams in a baking dish, and add the white wine and salt and pepper to taste.
Bake the littleneck clams for eight to 10 minutes, or until they all have opened. Serve with the wine as a sauce, or remove the top shells and top the opened clams with breadcrumbs and Parmesan cheese and bake for an additional three minutes, or until the crumbs and cheese have browned.
References
Writer Bio
Natalie Smith is a technical writing professor specializing in medical writing localization and food writing. Her work has been published in technical journals, on several prominent cooking and nutrition websites, as well as books and conference proceedings. Smith has won two international research awards for her scholarship in intercultural medical writing, and holds a PhD in technical communication and rhetoric.
Photo Credits
Comstock/Comstock/Getty Images