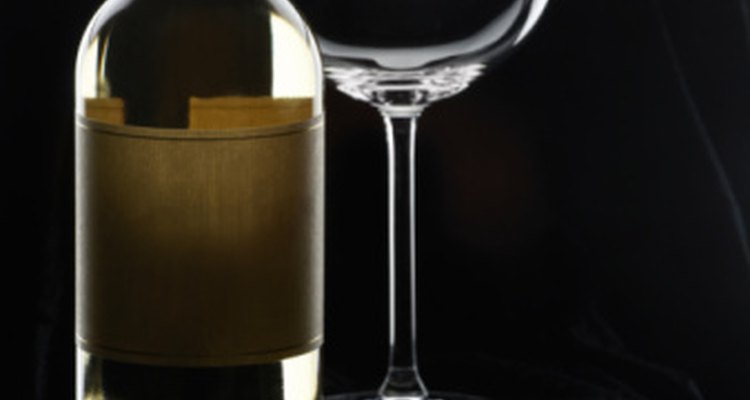 Jupiterimages/Photos.com/Getty Images
Pinot grigio is a light, dry and crisp white wine with origins in Italy. Nowadays, you can find several California and Oregon vineyards using the pinot grigio grape to make white wine. Pinot grigio can be used for seafood, stew and pasta dishes as well as many marinades and sauces for meats and fish.
Beef Daube with Pinot Grigio
Cut 2 lbs. of boneless beef stew meat such as chuck, shoulder, blade or rump into 3-inch cubes and season with salt and black pepper.
Heat 3 tbsp. olive oil in a large skillet over medium-heat. Add the meat in batches, brown on all sides and set aside.
Remove most of the liquid from the skillet, leaving behind only a light film of fat. Add one 750-ml bottle of pinot grigio and bring to a boil. Reduce heat and simmer uncovered about seven to 10 minutes or until wine has reduced to half.
Add 2 tbsp. Dijon mustard and return the beef to the skillet. Add 16-oz. can of plum tomatoes, three halved medium-sized onions, three halved cloves of garlic and a herb bunch containing four sprigs of fresh parsley, thyme and tarragon tied together. Cover and simmer over low heat for two to three hours or until meat is tender.
Remove and discard the herb bunch. Remove with a slotted spoon the meat, onions and tomatoes and set aside. Increase heat and boil the sauce for 10 minutes to thicken. Return the meat, onions and tomatoes and serve the daube in a bowl. Daube resembles a stew but is lighter and more refreshing.
Seafood Spaghetti with Pinot Grigio
Cook 1 lb. spaghetti until tender.
Heat 3 tbsp. olive oil in a skillet. Add three chopped shallots and three chopped cloves garlic and cook for three minutes. Add ¾ cup sun-dried tomatoes and cook another minute.
Add 1 ½ cup pinot grigio, 1 lb. cleaned shrimp and 2 lbs. washed clams and bring the liquid to a boil. Reduce the heat and simmer covered for seven to ten minutes or until the clams have opened.
Add the spaghetti to the skillet and season with 2 cups of arugula, 1 tsp. salt and 1 tsp. black pepper. Serve in a bowl.
Pinot Grigio Sauce
Heat 2 ½ cups of fish, vegetable or chicken stock in a saucepan over medium heat.
Melt in a medium saucepan 3 tbsp. butter and stir in 3 tbsp. all-purpose flour. Cook over low heat, stirring constantly for six minutes. Cool for a minute and whisk into the fish stock.
Add ¼ cup minced mushrooms and simmer the sauce, stirring often, over medium heat for about 20 minutes.
Melt 1 tbsp. butter in the medium saucepan over medium heat. Stir in 2 tbsp. minced shallots and cook until softened.
Add 1 cup pinot grigio and cook until liquid is reduced to half. Stir in 1 tbsp. chopped fresh parsley and stir the mixture to the fish stock. Serve with white fish or chicken.
References
"Joy of Cooking"; Irma S. Rombauer, et al.; 1997
Writer Bio
Maria Parepalo began writing professionally in 2006 and has published in medical journals as well as online. She graduated with a bachelor's degree in laboratory sciences from Helsinki Polytechnic in 2002 and is currently working on her doctoral degree in cell and molecular biology.
Photo Credits
Jupiterimages/Photos.com/Getty Images