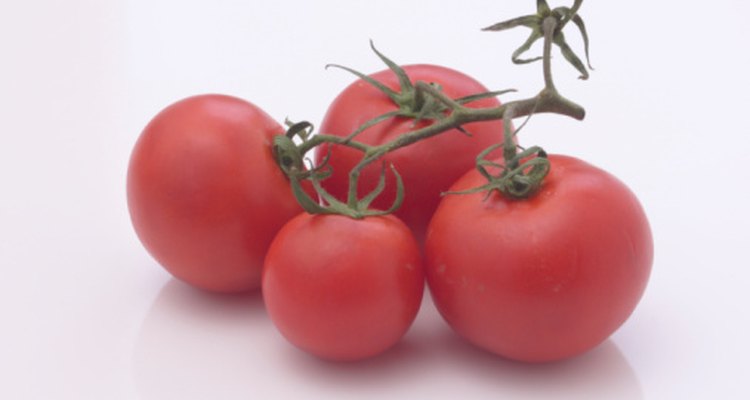 Hemera Technologies/AbleStock.com/Getty Images
Pasta's most natural culinary partner is the tomato. Whether it is found as part of spaghetti and meatballs, baked ziti or lasagna, hot, starchy pasta is seemingly made to hold on to tomatoes in any form. The simplest preparation of the ingredients involves diced tomatoes, olive oil and pasta.
Pasta Caprese
Caprese salad is a popular side dish made from sliced tomatoes and fresh mozzarella cheese. It can also be a simple pasta topping. "Bon Appetit," in its May 1997 issue, featured a recipe for pasta caprese that includes 1 1/2 lbs. of diced and seeded plum tomatoes, 8 oz. of julienned fresh mozzarella cheese, 3 tbsp. of olive oil, 1/2 cup of chopped fresh basil, 2 tsp. of red-wine vinegar and 12 oz. of pasta. The recipe calls for all of the ingredients except for the basil and pasta to be mixed together and refrigerated for one hour. Mix in the basil, then boil pasta per the instructions on the package. Drain the pasta, toss it with the tomato mixture and serve it.
Shrimp, Tomato and Basil Pasta
Martha Stewart hosts "Everyday Food" on the PBS network and in 2005, her show featured a recipe for shrimp, tomato and basil pasta. Stewart's recipe calls for the shrimp to be cooked in 4 tbsp. of olive oil in a skillet over high heat for three minutes before setting it aside. In the same pan, add 2 tbsp. of oil, two cloves of minced garlic, and cook the mixture over medium heat. Add one can of diced tomatoes in juice, 2 cups of water and bring the mixture to a boil, before reducing the heat to low and simmering the sauce for 15 minutes. Remove the sauce and add 1 pt. of halved cherry or grape tomatoes. When the pasta is finished cooking, drain it, return it to the pan and toss it with the sauce, shrimp and 1 1/2 cups of torn, fresh basil leaves.
Pasta with Sausage, Tomatoes and Mushrooms
A more complex take on the simple pasta with diced tomatoes and olive oil is a recipe from Eccoqui restaurant in Bernardsville, N.J., which "Bon Appetit" featured in its August 2002 issue. The recipe begins with 2 1/2 lbs. of sweet Italian sausage removed from its casing and crumbled. Brown the sausage in a large pot over medium-high heat. Remove the sausage, leaving behind the drippings, then add 3 tbsp. of olive oil. Saute 1 1/2 lbs. of thick-sliced mushrooms and 3 cups of chopped onions in the grease until the mushrooms are brown and soft. Add 1 cup of chopped fresh basil, 1/4 cup of chopped fresh oregano and six cloves of chopped garlic. Saute the mixture for one minute, before adding 1 cup of dry white wine. Saute until the wine is absorbed, then return the sausage to the pan, along with 5 cups of crushed tomatoes. Cook the dish for 25 minutes, then add 2 cups of diced tomatoes and 2 tbsp. of butter, cooking it for 15 minutes. The recipe calls for the sauce to be served over pappardelle, malfaldine or any wide, flat pasta noodle.
Salse Cruda di Pomodoro
In her 1996 book "Salse di Pomodoro," author Julia della Croce traces the roots of tomato sauces from their origin in Italy. She found that one of the first sauces used was called salsa "cruda di pomodoro." Loosely translated as simple tomato sauce, the recipe calls for 1 1/2 lbs. of vine-ripened tomatoes, four large torn, fresh basil leaves, one large minced garlic clove, one avocado, 5 tbsp. of olive oil, and salt and pepper to taste. The recipe calls for the tomato to be cored, quartered and diced. Combine the tomatoes with all of the ingredients except for the avocado, and toss them. Peel, core and dice the avocado and add it to the bowl, tossing it with the remaining ingredients. When the pasta is done cooking, drain it and add it directly to the bowl, tossing the ingredients.
References
"Salse di Pomodoro"; Julia della Croce; 1996.
Writer Bio
Jared Paventi is the communications director for a disease-related nonprofit in the Northeast. He holds a master's degree from Syracuse University's S.I. Newhouse School of Public Communication and a bachelor's degree from St. Bonaventure University. He also writes a food appreciation blog: Al Dente.
Photo Credits
Hemera Technologies/AbleStock.com/Getty Images