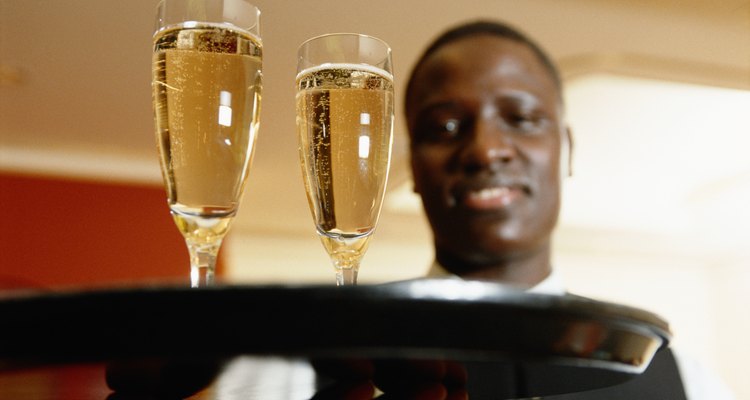 David De Lossy/Photodisc/Getty Images
Because most wedding receptions include some alcoholic beverages, most guests expect some to be served at your event. That alcohol could be available at the guests' own expense or only during specific parts of the reception. Guests want to know what to expect at the reception so if you are having an open bar, provide that information on an insert in the invitations or by word of mouth.
Word of Mouth
If you use formal invitations, avoid mentioning the open bar in print. Instead, allow the information about your reception's open bar to be spread by word of mouth. Your wedding party and close family members can let others who are attending the reception know that alcohol will be available. The other advantage of this method is that you can give guests even more information, including whether only certain types of alcohol will be available or if you plan to serve a special wedding cocktail in honor of the event.
Printed Option
Although not the preference of wedding etiquette experts, you may tell your guests about the open bar at the reception in print. However, don't include this information on the actual invitation. Instead, add a short message on the bottom of the reception insert or on a separate insert you include in the invitation. A brief message such as "Alcohol will be available to guests" or "A variety of alcoholic and nonalcoholic beverages will be available for our guests' enjoyment" is tasteful and informative.
References
Writer Bio
Amy Jorgensen has ghostwritten more than 100 articles and books on raising and training animals. She is also an amateur dog trainer. She has also written more than 200 blog posts, articles, and ebooks on wedding and party planning on behalf of professionals in the field.
Photo Credits
David De Lossy/Photodisc/Getty Images