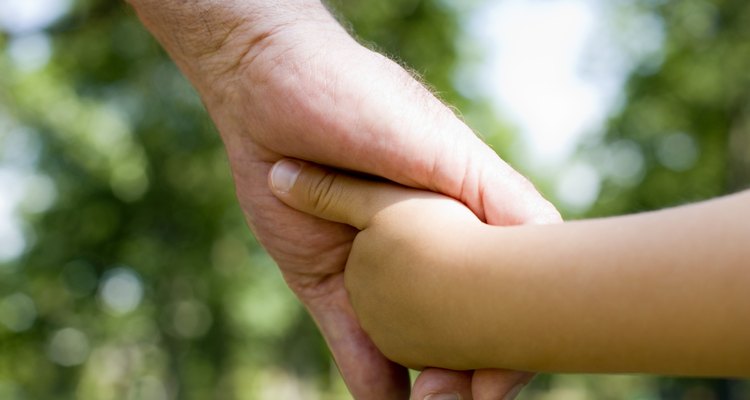 Creatas Images/Creatas/Getty Images
Miles often separate multigenerational families, for a variety of reasons. A 2012 study by MetLife indicated that 80 percent of grandparents studied had at least one grandchild living more than 50 miles away. Though physical distance does present a challenge, today's widely accessible modes of communication -- along with a focus on quality versus quantity -- allow grandparents to play an active role in the lives of their grandchildren.
Technology
Today's technology allows us to go way beyond landlines. Email capability and social media sites allow you to stay frequently connected to the daily lives of your adult children and grandchildren. Videoconferencing provides real-time opportunities to interact. Cell phones offer high accessibility, as well as text and photo-messaging. Remember, some of your grandchildren will enjoy talking on the phone and using videoconferencing, and others will not. Establish a style of communication that works best for both of you.
Snail Mail
Kids love to get mail. Postcards, letters and greeting cards go a long way with grandchildren of all ages. Consider sending photos or small gifts. There is no need to break the bank; surprising your grandchildren with mail simply lets them know that you are thinking of them. These kinds of gestures will go a long way toward building lifelong attachments. Always acknowledge birthdays and special occasions, and remember to keep cards and gifts age-appropriate.
Pay Attention
Let your grandchildren know that you are invested in their daily lives even though you can't be with them as often as you'd like. As children go through different developmental stages, their interests and behaviors will change. When they are young, ask your adult children what their kids enjoy and use it as a vehicle to connect. As your grandchildren grow, encourage them to tell you what is happening at school, in sports or with their hobbies. Your grandchildren may just teach you a thing or two!
Make Memorable Visits
When you are able to be together, make your grandchildren the center of attention as only grandparents can do!. You are your grandchild's historian; illuminate your family's history and culture while creating new memories of your own. When planning outings or activities, remember to consider the ages and interests of your grandchildren to be sure that they will enjoy themselves. Should you be able, offer to babysit your grandchildren and take advantage of quality alone-time. These shared experiences will be gratifying for both you and your grandchild.
One Grandchild at a Time
Kids feel special when given their own time with an adult they love. Nancy Kalish, Ph.D., writing in "Psychology Today," states that "A preponderance of research on grandparenting confirms that attachments are best formed by being with one grandchild at a time." This will allow you to connect with your grandchild without the distraction of siblings. Give your grandchild options to choose how you will spend your special time. Whether you are playing cards or snow-skiing together, your grandchild will remember that one-on-one interaction.
References
Writer Bio
Emily DeYoung is a staff writer for "Touched By Cancer Magazine." Formerly an instructor and counselor in higher education, she holds a master's degree in counselor education. DeYoung is also a certified interpreter of the Myers-Briggs Type Indicator.
Photo Credits
Creatas Images/Creatas/Getty Images