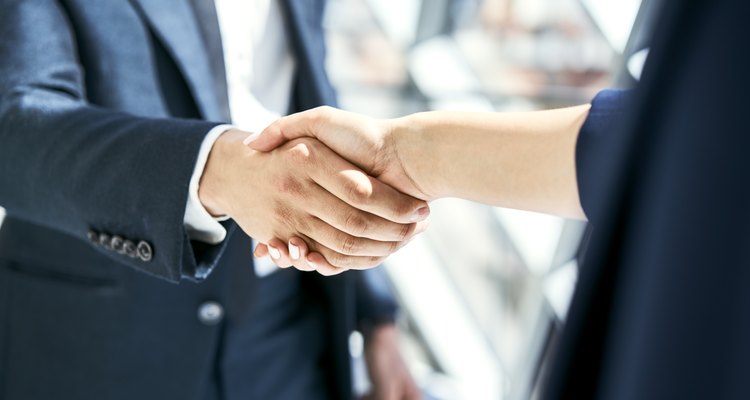 Westend61/Westend61/GettyImages
As a business owner, you have the opportunity to meet all kinds of people. Whether you're talking to industry experts at a seminar your company is hosting or you've invited an esteemed member of a group to speak at your conference, it's important to treat all your guests with respect.
Get to know your distinguished guest before he arrives by doing your research so you have a basic understanding of his interests, likes and dislikes. This not only helps to make him feel welcome but shows that you go the extra mile to take care of your guests.
Do Your Research
The first step in welcoming a distinguished guest is doing your research. If you have invited someone to be a part of your meeting or you're hosting a peer from a partner company at your office, it's critical to get to know her before she arrives.
Research online and ask others who know the individual about what you can expect. It would be helpful to know information about the guest that includes:
Areas of expertise in business
Particular areas of research with which she is fascinated

Career milestones
Hobbies and activities
Family status
With this information in hand, you will have a lot to talk about with your guest. This will enable you to ask her questions about her interests and get to the heart of issues that matter to her. By knowing some personal information, like which sports she likes to play or how many kids she has, you can also touch on topics outside of work.
Help With Travel and Accommodation Arrangements
If you have invited the distinguished guest to your business, it's important to offer to help make any travel arrangements for him. In some cases, you may be contractually required to make travel arrangements. In this situation, be sure to keep the guest updated about all the travel details so he has the information well in advance of his trip.
If there are no contractual obligations, it's still important to offer travel advice. The guest may not be familiar with your area or not know the best route to take. Ask him from where he is coming and provide guidance that will make his trip easier and more convenient.
With regard to hotel accommodations, make suggestions for hotels that are closest to your place of business or the event that the guest is attending. Ensure there is an easy mode of transportation for him to get to and from the hotel, such as a cab or subway. Suggest hotels that offer the amenities your guest may need, such as a gym, business center, workstation within the room and room service.
Consider Cultural Barriers
Depending on from where your guest is coming, there may be cultural differences you need to take into consideration. Culture affects the way people communicate, and it's important to have clear and open lines of communication with your distinguished guest. Even the thumbs-up gesture, which is commonly used in the United States, can mean something offensive in other countries.
In some countries, making eye contact with someone from the opposite sex can be considered rude. It's important to not make eye contact in this case, as it can be considered too forward and disrespectful.
In some countries, punctuality is taken lightly. If your guest is late according to your standards, she may be on time according to hers. Do some research into your guest's culture so you're familiar with her cultural norms. This will help you navigate any communication barriers that may arise.
Anticipate Your Guest's Needs
Welcoming a distinguished guest includes understanding what he may need before he asks for it. Take care to anticipate your guest's requirements so you can make him feel more comfortable. For example, if he has had a long journey, he may need a few hours of rest in his hotel before heading to your office or event. Don't schedule the speech for right after he arrives.
If your guest will be working in your business for a few days, set up a work station for him that gives him the basic requirements of a computer and a phone. He may also require some privacy, so it's better to offer him a workstation that is in a cubicle or office.
Be sure to show him around your company so he can see where the lunch rooms and bathrooms are as well. Answer any questions he has so he feels fully prepared for the day ahead.
Introduce Your Guest to Key Colleagues
Being the new person in the office or at the event can be daunting, even if you are a specially invited guest. It is a lot of pressure to meet new people and learn their names. When your guest arrives, be sure to introduce her to a few key colleagues at the start. This will help her to get acclimated and have a few familiar faces in the room. Don't go overboard and introduce her to too many people at once, as this can be overwhelming.
When you welcome guests and participants at the door to the event, you can introduce a few more people to your distinguished guest. By gradually introducing her to colleagues, you can avoid causing confusion with names. By meeting small groups of people at a time, the guest will be able to feel more comfortable in her new surroundings without the pressure of having to remember everyone's name at once.
Create an Itinerary
Plan a few activities for your guest so he can make the most of his time with you. This will also help him to get to know your work associates and employees without having to plan meetings on his own.
Be sure to include a variety of activities in your itinerary with a balance of business and personal items. If you have a day full of presentations and meetings, it can be exhausting to attend another work-related event in the evening. Break up work meetings with a casual lunch or afternoon game of golf. Think back to your research to consider your guest's interests. Take his hobbies into account while planning your itinerary.
Include some local flare if your guest is traveling from out of town. Does your area have the best fish and chips, for example? Take him to a famous restaurant. Are the landscapes beautiful in your city? Take him for a short walk so he can see the sights.
Give Your Guest Some Alone Time
A carefully curated itinerary needs to have some breaks scheduled in it. Your guest will need to have some time to herself as well, even if it's just to stop and think for a moment. Build in 15-minute breaks every few hours so your guest can relax. If she is visiting you for a few days, ask her if she would like an evening or two alone to explore the city or rest in her hotel room.
Follow Welcome Speech Best Practices
Whether you're giving a formal speech at an event or you're just gathering with your team in the lunch room, it's important to introduce your guest in the right way. Start by talking about some of your guest's career milestones. What has he contributed to your industry that is notable for your team?
Avoid giving a long speech about your relationship with the guest or how you came to know him. Focus on your guest's expertise and give him a quick introduction. Invite him to the stage, offer a firm handshake and then go and sit with the audience so your guest can start his speech and take center stage.
References
Writer Bio
Anam Ahmed is a freelance writer and editor based in Toronto, Canada. She writes on everything from business to parenting, travel to technology. Learn more at www.anamahmed.ca.