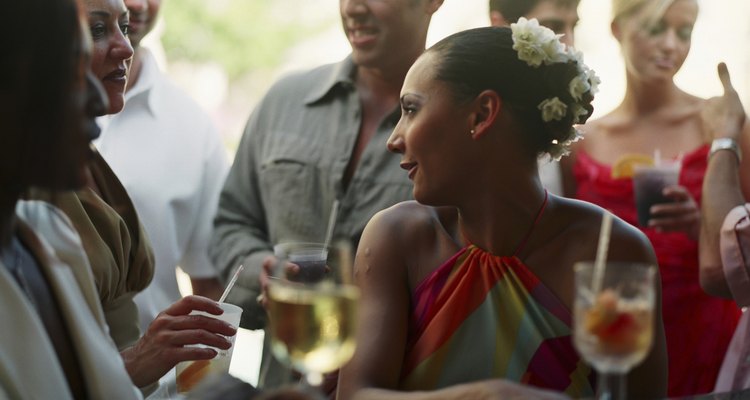 NA/AbleStock.com/Getty Images
Matchmaking has been a dating and marriage practice for centuries, but American speed dating has been around since 1999, when a rabbi and his students put a turbo-style twist on the tradition of introducing Jewish singles. The event was a success because the young men and women involved were able to meet more potential partners in one night than they would have in one month of typical dating. Organizing a speed dating night for you and your friends can be relatively easy if you plan ahead.
Step 1
Find a venue. Consider whether you want to do this at your house or one of your friends' houses. You should only host the event on your property if you're comfortable doing so, and you know the guests or at least know people who can vouch for them. If you're inviting strangers, you might want to book a private room at a restaurant or the meeting room of your church. Try to find or create an arena where people can talk in relatively private spaces, at tables or on couches.
Step 2
Seek out guests. This may be the largest part of organizing the event, since guests are coming with the goal of meeting other interesting guests. Curate your guest list carefully, keeping an even gender split and remaining mindful of guests' sexuality. You can start with your single friends and then branch out, asking people to invite single friends. Beth Brindle, writing for the website of "TLC," recommends capping the guest list at around 20, and of course, keeping an even number. Plan far enough ahead of time that you can send out invitations and accept RSVPs.
Step 3
Plan food and drinks. So that guests can soothe some of their anxiety about dating, you should make some beer and wine available, but not so much that it becomes a rager. Party planner Camille Styles recommends planning for one drink per guest per hour, as a general rule. Have some bite-sized appetizers that are tasty and easy to eat -- nothing too messy or too pungent. Pita bread and hummus, bruschetta, or basic cheese and crackers are all good options.
Step 4
Give it a special touch. Speed dating events are fairly common now, but you have the chance to make yours stand out. Consider whether your event will be formal or casual, or have a theme such as "tropical island" or "1990s." You can have your guests each come up with some clever first-date questions to put in a hat for random drawing, or create formal question cards for every table. Whatever you do, make sure the environment is relaxed and fun.
Step 5
Organize effectively with lists, name tags, and a timer. Figure out ahead of time which 10 people will be staying put (at tables, or on couches, etc.) and which 10 will be switching chairs, to make the process more effective. Let your guests know how long they'll have to talk during each session, and use a timer to organize each "date." Traditionally, each speed date is seven minutes long, with time to mingle as a crowd afterward.
References
Writer Bio
Emma Wells has been writing professionally since 2004. She is also a writing instructor, editor and former elementary school teacher. She has a Master's degree in writing and a Bachelor of Arts in English and anthropology. Her creative work has been published in several small literary magazines.
Photo Credits
NA/AbleStock.com/Getty Images