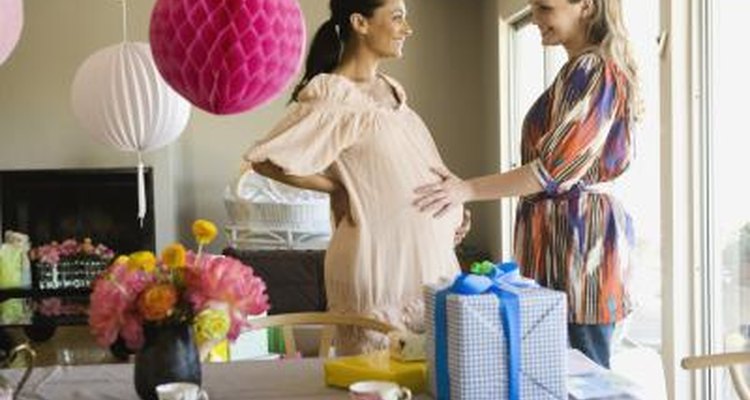 Jupiterimages/Brand X Pictures/Getty Images
Although baby showers are typically joyous occasions, they usually rank below weddings and funerals on the scale of important events that justify a long journey. That being the case, though, if some people live a long distance away, they can become part of the event through the use of webcams, the Internet and other forms of technology.
Step 1
Decide on a date for the baby shower. Some potential attendees who live long distances away, such as close friends and family of the expectant mother, might want attend no matter the distance. So they'll need as much advance notice as possible so they can make plans to attend. When choosing a date, make sure it's far enough in the future for people to make plans, but during a period that coincides with the very late stages of pregnancy.
Step 2
Establish an Internet presence for the occasion. Set up a blog or special website with all the pertinent information about the baby shower, including the time, date and location. Update the information periodically. This way, people who live a long distance away and don't speak with the expectant parents on a regular basis can keep track of the event. Various companies, such as Baba Babies (babababies.com) and The Bump (thebump.com) offer expectant parents free Web space to create their own sub-domain, upload videos and share gift registries, among other things.
Step 3
Decide on a way to webcast the shower to those who won't be able to attend in person. Some telecommunications and social networking companies like Skype (skype.com) and Google+ (plus.google.com) offer free video conferencing among multiple parties, with the requirements being that they must be a registered member of the service and have a Webcam.
Step 4
Send out invitations to the shower. This can be done via regular mail, email or both. Invites should include the time, date and location of the baby shower as well as the URL of the special website.Let the invitees know in the invitation that if they cannot attend in person due to distance or other factors, a video conference will be set up so they can participate live online.
Step 5
Make arrangements for food, drink and games after determining approximately how many people will attend in person. Then host the shower at the appointed time and place. Set up the webcam at least 15 minutes prior to the shower's start time and make sure it's working properly. Also if possible, videotape the shower so that it can be posted online for non-attendees to view or kept in the expectant parents' archives.
References
Tips
The alternative way to throw a long-distance shower is to have the shower without the mom. Ask the guests to bring unwrapped gifts, which you can record with either a video camera or a digital camera. At the party, you can play games, have food, record special wishes for mom and baby, and wrap the gifts. Afterward, mail the gifts and video to the mom (or send the digital photos to her). This type of party is perfect for guests who know each other well.
Suggest to the mom-to-be that someone take pictures of her opening each gift, which can be included in the thank you notes. If she has a traditional camera, supply her with the film she'll need.
Warnings
Think carefully about the people you invite to a long-distance baby shower. It's essentially asking for gifts for the mom-to-be without any of the games, food, and baby chatter of a traditional shower. And while lots of people will be glad to help her get off to a great start, some invitees (possibly older relatives) will be offended because it seems like a tacky "gift grab." So weigh the potential for insult at being left off the invite list against how likely they are to be offended by the idea of a long-distance shower.
Writer Bio
Mark Nero has been a professional journalist since 1995 and has written for numerous publications within and outside the U.S. His work has appeared in "The Boston Globe," "San Diego Union-Tribune" and "Los Angeles Daily News" among others. Nero studied communications at San Diego State University.
Photo Credits
Jupiterimages/Brand X Pictures/Getty Images