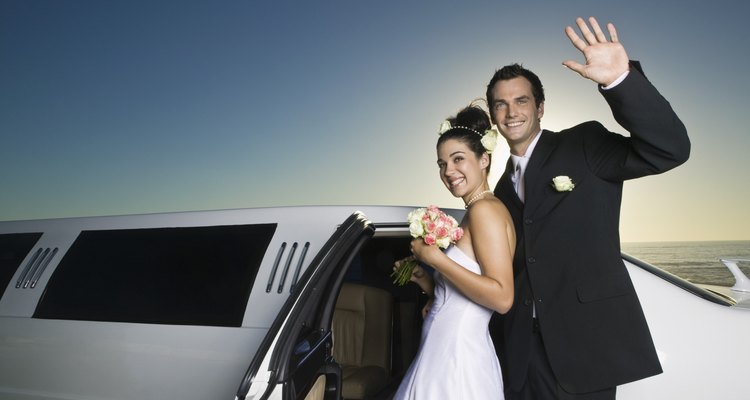 Jupiterimages/Goodshoot/Getty Images
Wedding announcements differ from invitations and are generally sent out once the couple is already married, much a like a birth announcement is sent after a baby is born. Announcements aren't required and many couples forgo them altogether. However, if you do decide to mail out wedding announcements, certain rules of etiquette apply. They don't have to be as formal as the wedding invitations, but you want them to coordinate and match the style and type of wedding you had.
When to Send a Wedding Announcement
In many cases, couples choose to send wedding announcements to guests who couldn't make the wedding. They are also appropriate if you had a small wedding and didn't invite everyone you know. They are also a good way to let acquaintances, co-workers and old friends know that you got married. Couples who get married at the courthouse or who elope may also want to send a wedding announcement to family members and friends. This helps people feel included even if they missed the big day, for whatever reason. Most of the time, announcements are sent out the day of the wedding or when you return from your honeymoon.
Information to Include
Since many wedding announcements are sent to people who didn't attend the event, you want to include all pertinent information. Include the names of both sets of parents, the names of the bride and groom and the date of the wedding. Some couples want to include a picture of the wedding. In this case, it is fine to mail the announcements a few days after the wedding so you can get some photos copied. If you eloped, you might want to also include where you got married.
Envelopes
Though many couples choose casual invitations, etiquette for mailing them is similar to wedding invitations. The announcement itself is inserted into an envelope, flipped over and then placed inside a slightly larger envelope. Write or type the name of the recipients on the inner envelope, but include only the family name on the outer envelope. Address the outer envelope and place a stamp on it before mailing the announcements.
Gifts
Married couples shouldn't expect gifts after sending out wedding announcements. The purpose of the announcement is simply to let people know about your recent nuptials. For this reason, don't include registry information or an address for mailing gifts. This is considered poor etiquette and people may feel like they are only getting an announcement because you want them to mail you a gift.
References
Writer Bio
Eliza Martinez has written for print and online publications. She covers a variety of topics, including parenting, nutrition, mental health, gardening, food and crafts. Martinez holds a master's degree in psychology.
Photo Credits
Jupiterimages/Goodshoot/Getty Images