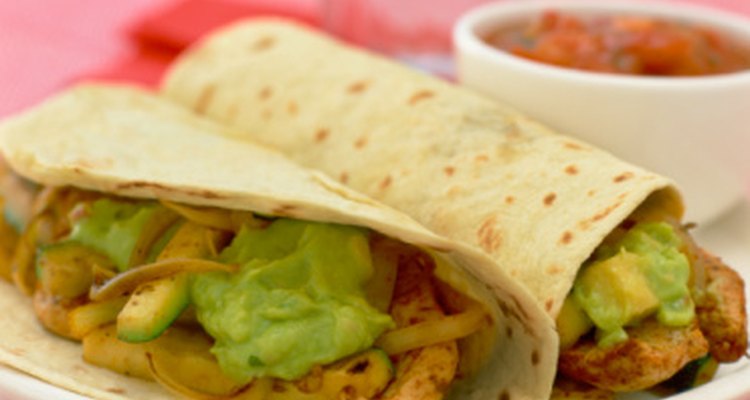 ITStock Free/Polka Dot/Getty Images
Tortillas are an enduring staple of Central and South American cuisine. Conquistadors first documented this corn-based flatbread during the 1400s. Today, cultures throughout the Americas and Europe use the tortilla in traditional and modern dishes. A well-made, softened tortilla should securely envelope the toppings in the center without ripping. You must soften your tortilla immediately before serving to achieve this strength and flexibility. You can warm a tortilla in different ways, depending on your time frame and available ingredients.
Microwave
Warm your tortillas quickly in the microwave with these steps. Spread 1 tbsp. of butter over a paper towel.
Wrap eight to 10 tortillas in the buttered paper towel. The butter will soften and moisten the tortillas as they microwave.
Place the wrapped tortillas on a paper plate and microwave them for 20 to 30 seconds. Unwrap the tortillas and serve immediately.
Stove-Top
Heat 1 tbsp. of cooking oil in a skillet or frying pan until tiny bubbles emerge on the bottom. Cover the pan with a safety splatter screen to keep the oil from burning your hands.
Place each tortilla in the pan of cooking oil for 15 to 20 seconds. Turn the tortilla over with tongs and repeat the frying process on the other side. Oil softens the tortillas while providing flavor and moisture.
Transfer each warm tortilla from the stove to a paper towel for 10 seconds to remove any excess oil. Flip the tortilla to the other side for 10 seconds. Store your tortillas in a covered dish or tinfoil wrapping to preserve the moist softness before serving.
References
Tips
Use nonstick cooking spray as a healthy substitute for cooking oil or butter. You can also use water instead of butter to moisten the tortillas in the microwave method.
Warnings
Cooking oil heats quickly and can cause severe burns without proper safety. Always use a safety screen and do not allow young children to help flip the tortillas.
Writer Bio
Christina Bednarz Schnell began writing full-time in 2010. Her areas of expertise include child development and behavior, medical conditions and pet health. She holds a Bachelor of Arts in international relations.
Photo Credits
ITStock Free/Polka Dot/Getty Images