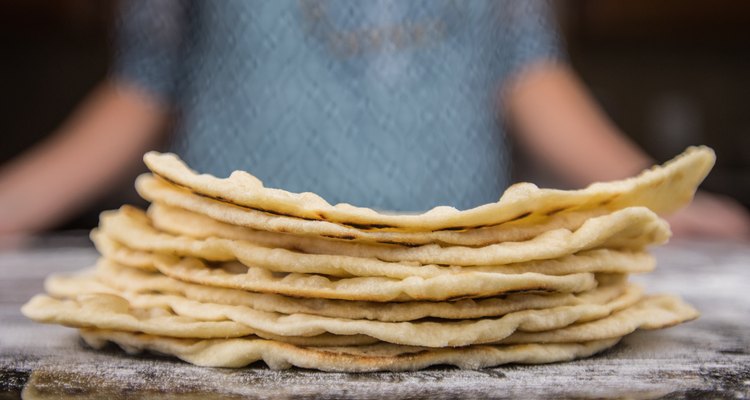 kellyvandellen/iStock/GettyImages
Making flour tortillas at home allows you to control the ingredients. It also produces a superior product to store-bought tortillas and may make you reconsider buying tortillas from the store ever again once you try making them yourself. Though it takes some work, after a few practice runs, you can turn these out with good speed. The texture and flavor of fresh homemade tortillas makes your meal shine, whether you are making tacos, burritos, enchiladas or serving them alongside rice and beans.
Prepare the Tortilla Dough
Divide the dough into equal portions and allow the dough to rest for 45 minutes, covered on your counter.
Roll the dough on a clean counter into thin, even circles, approximately 8 inches in diameter. Work quickly to avoid overworking the dough, which makes it sticky. If the dough sticks to the countertop, lightly dust the counter with flour, but try to avoid adding a lot of flour to the tortillas.
Stack the tortillas as you go, separating each with a piece of wax paper to prevent sticking.
Cook the Tortillas
Heat the griddle to medium-high at least 10 minutes before the dough has finished resting to ensure the griddle will be hot enough.
Place one tortilla on the ungreased griddle and allow it to cook until it bubbles slightly on the side facing up, which takes about 45 seconds. Flip the tortilla with a spatula to the other side and cook it until lightly browned, about 30 seconds. Remove the tortilla from the griddle and place it on plate.
Cover the cooked tortillas with a clean kitchen towel to keep them warm for serving.
References
Dining on a Dime Cookbook; Tawra Kellam and Jill Cooper
Tips
If you do not have a griddle, use a cast-iron frying pan to cook tortillas.
Warnings
Pay close attention to your tortillas as you cook them because walking away from the stove quickly results in burnt tortillas.
Do not try to begin cooking the tortillas before you roll them all out unless you are extremely fast and skilled at rolling dough. The cooking progresses quickly and it is difficult to keep up with rolling and flipping at the same time.
Writer Bio
Based in Portland, Ore., Maxine Wallace is a writer with more than 12 years of experience. With a bachelor's degree in journalism and experience working on marketing campaigns for large media agencies, she is well-versed in multiple industries including the Internet, cooking, gardening, health, fitness, travel and holistic living.