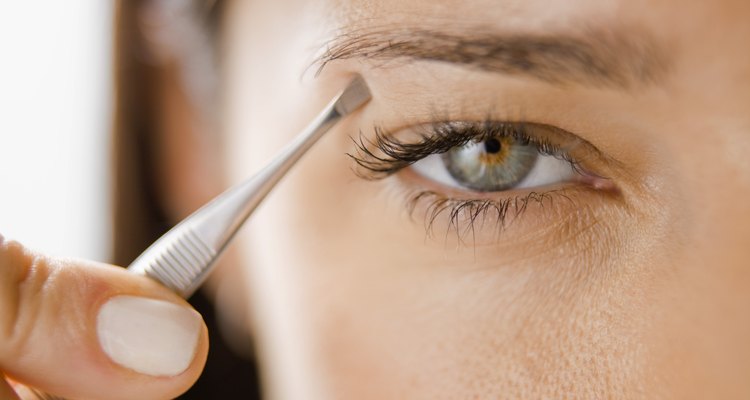 Creatas Images/Creatas/Getty Images
Shaping your eyebrows is a personal decision no matter your age. Young girls with especially bushy brows may feel self-conscious and need help in getting rid of the bulk. Teenagers applying makeup for the first time might have an eye-opening experience when stray hairs get in the way of a smooth application. Whatever the reason you seek to shape your brows, just know that there are many paths to a beautiful brow. To begin with, use a tweezer at home to achieve a subtle shape on your own.
Comb your eyebrows up and over to the side.
Tweeze any obvious hairs that are out of line below the brow on the upper lid. Take a step back and assess with every three plucks. It's crucial not to overpluck during your first attempt at shaping.
Hold a pen or pencil vertically at your tear duct, advises Kristie Streicher, a celebrity brow expert. Pluck hairs carefully that extend outside of this line.
According to Streicher, you can get a little arch going by first locating your eye's iris. Look from the iris directly up to the eye brow. This is the point at which you can carefully pluck one hair at a time. Expose the skin gradually with each pluck, and then stand back to get a better view of the overall eyebrow. You should follow your natural brow line at all times, advises Streicher.
Place the pencil at a 45-degree angle from the outer corner of your eye, says Streicher. Tweeze any hairs that fall outside of the pencil line.
Repeat these steps on the other eyebrow, then comb your brows up and over to reveal the new shape. Pluck only the stray hairs that you've missed outside of this shape.
Dab a pea-sized amount of aloe vera gel onto your fingertips. Gently stroke across your eyebrows and the upper lids. This helps to soothe any stinging or aching due to tweezing.
References
Writer Bio
Based in Los Angeles, Lisa Finn has been writing professionally for 20 years. Her print and online articles appear in magazines and websites such as "Spa Magazine," "L.A. Parent," "Business," the Famous Footwear blog and many others. She also ghostwrites for mompreneurs and business owners who appear regularly on shows such as Ricki Lake, HGTV, Carson Daly and The Today Show.
Photo Credits
Creatas Images/Creatas/Getty Images