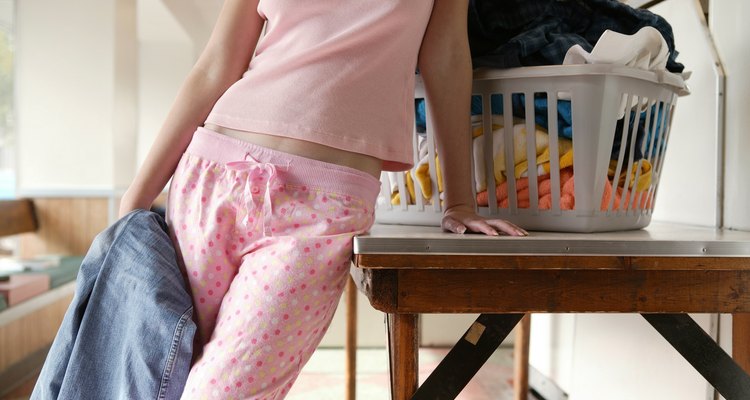 Comstock Images/Stockbyte/Getty Images
It happens to the best of us. We pull a comfy pair of sweatpants out of the dryer only to find that the drawstring has slipped out. If the pants have elastic, there really is no need to re-thread the string unless you feel it somehow adds to the style of the pant. However, if the only way to hold up your sweatpants is with a drawstring, you'll need to put it back in place. In just a few simple steps, and with some patience, your sweatpants will be ready for wearing in minutes.
Attach the safety pin to one end of the drawstring. At the other end, tie a knot so that the string has a harder time getting loose next time. Place the safety pin as far as it will go into the hole on the sweatpants.
Slide the safety pin through the pants using both hands. Slide it again by holding the safety pin in one hand, scrunching up the fabric in the other, and then pulling the fabric in the opposite direction so it's taut. Repeat this slide, slide, pull method until the safety pin reaches around the entire waistband and is nearing the other hole.
Reach into the hole and pull the safety pin out. Move your fingers around the waistband so that the string is manipulated into the right spot and the string lengths are even in front.
Unfasten the safety pin. Tie a knot in the string to match the other side. If the hole in the sweatpants seems stretched out, make sure to tie a double knot on both sides. The knots need to be bigger than the hole to prevent the string from coming loose again.
Writer Bio
Based in Los Angeles, Lisa Finn has been writing professionally for 20 years. Her print and online articles appear in magazines and websites such as "Spa Magazine," "L.A. Parent," "Business," the Famous Footwear blog and many others. She also ghostwrites for mompreneurs and business owners who appear regularly on shows such as Ricki Lake, HGTV, Carson Daly and The Today Show.
Photo Credits
Comstock Images/Stockbyte/Getty Images