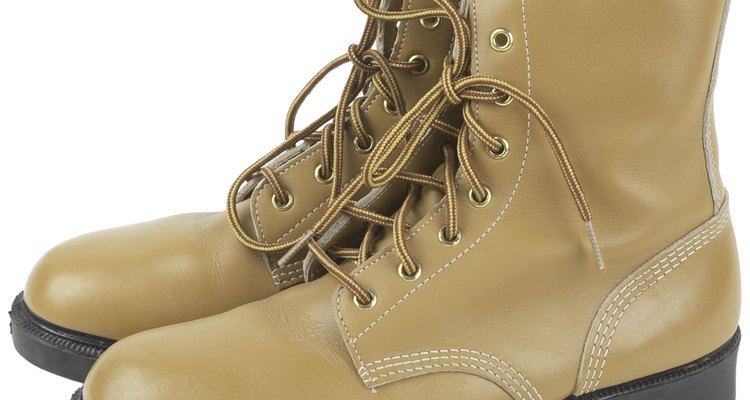 PhotoObjects.net/PhotoObjects.net/Getty Images
Steel-toe boots come in many styles and are used for many reasons ranging from construction work to leisure hiking. A good, properly fit steel-toe boot will not only protect your feet but also cradle them in comfort. The best way to ensure a good steel-toe boot fit is to try them on. Even if you intend to buy them online, you should shop around, try them on, find the best steel-toe boot fit and then purchase that brand, model and size online.
Put on the same kind of socks you will be wearing under the boots, or bring them with you if they are too thick for your regular shoes.
Try on as many different brands and sizes as you can. Not all brands are going to fit the same way, so it's not a good idea to just walk in and ask for a size 12. You have to try them on.
Make sure that the ball of your foot is well-covered by the steel toe without being squashed up against it. Your heel should not slip around inside of the boot or rub too harshly against the inside of it.
Unlace the boot, push your toes forward and stick your index finger down behind your heel. If it fits easily without being squished or having too much wiggle room, then you have the right size.
Walk around the store in the boots for at least 15 minutes. The salesperson will probably get nervous, but that's okay. It's far better for him to be nervous for 15 minutes than for you to be miserable in ill-fitting boots for 8 hours a day or to be stuck on the middle of a trail with bad blisters.
Make sure you can comfortably crouch or squat in the boots without cutting off the circulation in your ankles if you will be doing a lot of that while you are wearing the boots. See how they feel if you have to walk sideways, or backwards—in other words, give them a good, realistic try-out.
References
Writer Bio
Brynne Chandler raised three children alone while travelling, remodeling old homes, taking classes at the Unioversity of California Northridge and enjoying a successful career writing TV Animation. Her passions include cooking, tinkering, decorating and muscle cars. Brynne has been writing fun and informative non-fiction articles for almost a decade. She is hard at work on her first cookbook, which combines healthy eating with science-based natural remedies.
Photo Credits
PhotoObjects.net/PhotoObjects.net/Getty Images