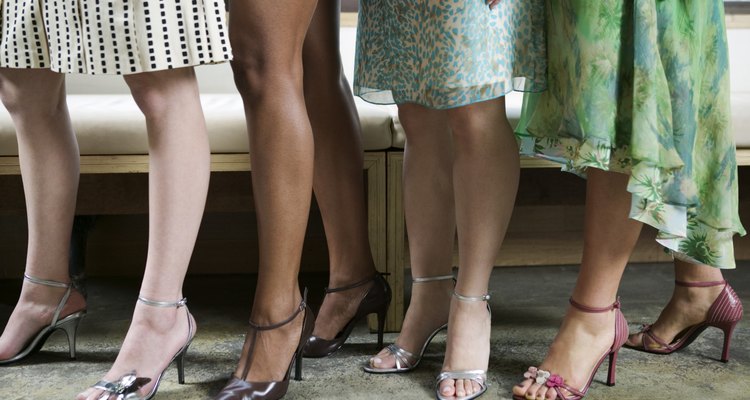 Creatas/Creatas/Getty Images
For women with big feet, it was once nearly impossible to find adorable shoes that fit correctly. Often you'd have to resort to stuffing your foot into a size too small, choose ugly styles or buy men's shoes. Obviously, men's shoes don't include the heels, wedges or strappy sandals women like. Eventually, shoe companies realized not all women's feet stopped growing at a size 10 and began making fashionable shoes available for women with big feet.
How and Where to Look
It's frustrating to go shoe shopping with friends and not find your size available because you have big feet. If you ask store associates before you wander the racks, they'll tell you if they carry shoes in your size and which ones. Many retail and online stores carry inexpensive, yet fashionable women's shoes in large sizes. Online stores have shoes up to size 20, while some stop at size 11 or 12. If you have narrow or wide feet, it may be more challenging to find larger sizes, but not impossible.
Accurate Measuring
The most important part of buying shoes is to make sure they fit correctly. To ensure the best fit, you should start by measuring your foot in the Brannock Foot-Measuring device. A sales associate knows how to use this measuring tool if it seems confusing or wildly inaccurate. This tool indicates your shoe size and width. Since many shoe manufacturers don't follow Brannock sizing, you'll still need to try your shoes on to confirm fit and comfort.
Online Stores
If you've already measured your feet previously, or know what size and width feel comfortable on your foot, shopping online for large-sized shoes will provide a wide selection of styles. Online retailers, such as 6pm.com, offer up to size 20 while barefoottess.com provides sizes up to 15. Online stores with stylish shoes make it easy to quickly weed out sizes that don't fit your feet. So if you wear a size 12 in wide width, all you need to do is select the correct search parameters to find cute shoes available in your size.
Brick and Mortar Stores
Lovers of designer shoes should go to Nordstrom and Bloomingdales for up-to-the-moment fashionable larger sizes. Budget conscious consumers may find cute shoes for their big feet at Payless or Nine West. Most brick and mortar shoe stores tend to carry up to a size 12, but their websites often carry larger sizes. Payless's website goes up to size 12, while Nordstrom's website carries women's shoes up to size 14. Most brick and mortar stores with an online presence allow you to return shoes you ordered online to your local store.
References
Writer Bio
Rebecca Gilbert began writing and transcribing in 2003. In 2007, she started a resume-writing company. She earned an associate degree in sociology from Pima College and a bachelor's degree in communications at University of Wisconsin. Gilbert also does tech support for a major technology company and volunteers locally teaching job-seeking skills.
Photo Credits
Creatas/Creatas/Getty Images