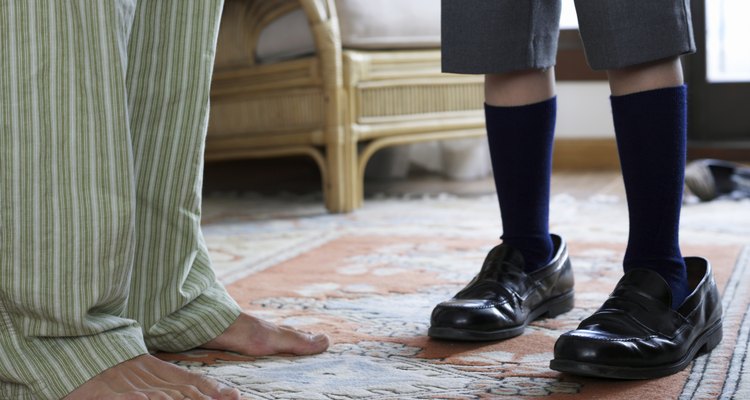 Nick White/Digital Vision/Getty Images
Your little guy is growing again, and seems to be bursting out of all his clothes and shoes all of a sudden. It's hard to keep up with the growth spurts preschoolers experience in the blink of an eye! Rather than spending an agonizing day at the shoe store trying a variety of sizes and styles on the little one, plan your trip armed with a some knowledge that will help make your shopping experience easier.
On Average ...
A good starting point is to figure out what size clothing Junior is wearing right now. An average 4-year-old boy fits comfortably into a size 4 or 4T, which equates to a size 10 1/2 to 11 shoe. Many toddler shoes are not available in half sizes, so err on the safe side and select an 11. A little room in the toes is far better than a snug fit, because as you know, he'll be filling up that extra space in no time.
Big and Little
Not every child fits into these "average" parameters. If your child tends to be a little taller than average, he is probably wearing a size 5 or even 6 clothing. Typically, a shoe size will follow pretty closely in line with the clothing size. You will want to shop for a size 12 or possibly 13. The same rule applies for a shorter child. Try a shoe size 10, if your boy is still comfortably wearing a size 3.
Wide or Narrow
Most kids' sneakers and sandals are built of flexible fabric because they are designed for comfort and durable wear during play. But if you are buying a dress shoe for your boy, take into account the width of his foot as well as the length, which determines the shoe size. Many top brands sell boys' dress shoes in a wide size. Look for his numeric size, followed by a W -- such as size 11W.
Brands Beware
While these tips will serve as a good guide for you, it is important that the child tries on the shoe before you buy or you might be headed back to the store. Different brands run a little smaller or larger than others, and the same goes for width. If your child has a hard-to-fit foot, it's a good idea to find a brand that works for him, and continue buying that same brand in larger sizes as he grows.
Enjoy your shopping, and don't forget to bring clean socks!
References
Resources
Writer Bio
A.J. Ryan is an elementary school teacher and graduate-level college instructor. She holds a professional teaching certification in the commonwealth of Massachusetts, as well as a Master of Education and a Bachelor of Science in business administration.
Photo Credits
Nick White/Digital Vision/Getty Images