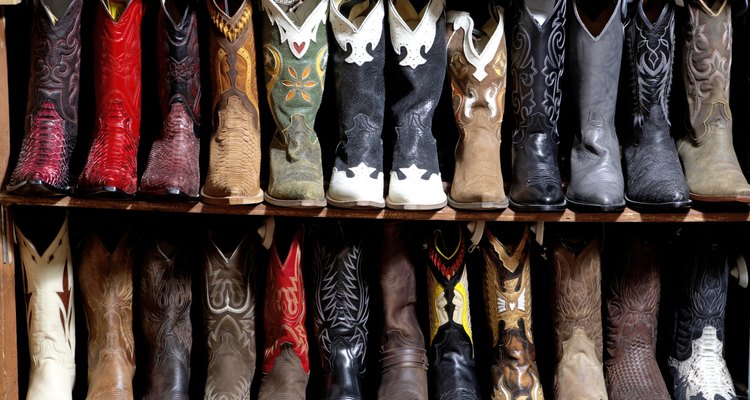 Kraig Scarbinsky/Lifesize/Getty Images
The ability to shop on the Web, through the mail, and over the phone has made it convenient to purchase many items without leaving the house. Unfortunately, it can be difficult to purchase shoes and boots without trying them on. Many online stores and mail order catalogs allow you to return items that do not fit, but it is often inconvenient to ship back items that are the wrong size. Fortunately, it is easy to correctly measure your shoe and boot size.
Wait until late afternoon or evening to measure your feet. Our feet usually swell as the day goes on, so morning measuring may result in boots that are too tight.
Put on the socks that you intend to wear with your boots.
Sit in a chair and place your foot, with a piece of paper or cardboard under it, flat on the floor.
Trace your foot with a pencil. Make sure you hold the pencil perpendicular to the paper at all times when tracing. Tilting the pencil will give you an inaccurate result.
Measure the length of your foot outline from the back of your heel to the tip of your longest toe.
Measure the width of your foot outline across the widest part of your foot. This should be from the ball of your foot to the area just below your pinkie toe.
Contact the manufacturer of the boots you want and select the correct size based on the measurements of your foot.
Writer Bio
Writing professionally since 2008, Michelle Miley specializes in home and garden topics but frequently pens career, style and marketing pieces. Her essays have been used on college entrance exams and she has more than 4,000 publishing credits. She holds an Associate of Applied Science in accounting, having graduated summa cum laude.
Photo Credits
Kraig Scarbinsky/Lifesize/Getty Images