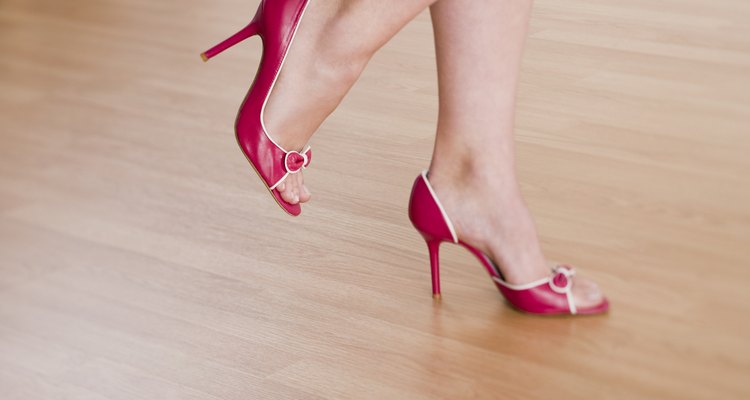 Jupiterimages/Comstock/Getty Images
You just bought a fashionable new pair of high heels, casual or sport shoes, and although they felt great in the store, you experienced pain and blisters once you started wearing them for extended lengths of time. New shoes may look great, but usually require a breaking-in period before they soften and feel comfortable on your feet. Before spending the day in new shoes, try softening them to help avoid sore feet and painful blisters.
Wear your new shoes around the house for 15 to 30 minutes each day. Go up and down stairs, if possible. Engage in activities that will force the new shoes to flex and bend.
Massage hair conditioner into the exterior of new leather shoes. Repeat the following day until the shoes have softened and feel more comfortable on your feet.
Soak a cotton ball with rubbing alcohol. Rub the cotton ball on the areas inside your new shoes where they feel tight. Put the shoes on and walk around your house in them. Repeat this process each day until the new shoes soften.
Rub the backs of your new shoes with a slightly moistened bar of soap, which will help soften them.
Put on your new shoes. Fill a spray bottle with water and spritz the tight areas of the shoes. The heat from your feet will slowly dry the wet areas, and the shoes will become softer with a more comfortable fit.