It may seem unfair to judge a person by what she looks like and how she dresses. After all, many gifted people do not dress conventionally, particularly people in the arts. However, for those working in business, or in many other fields, certain conventions still apply. First impressions count, and it is relatively easy to get this right. Classic dress will not turn you into something you are not, but it will smooth your path in the professional world.
Ways to Dress Like an Upper-Class Professional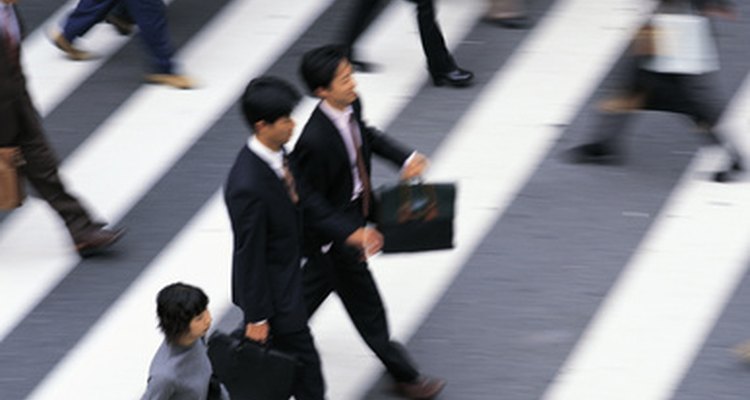 business man image by peter Hires Images from
Fotolia.com
Choose your wardrobe carefully, employing the services of a style guide, if this is something you can afford. Buy some classic items of clothing, in black and classic dark colors such as burgundy (for a woman) grey, dark blue. Buy a minimum of a dark suit (trouser or skirt, for a woman), a belted trenchcoat or raincoat and white shirts. Women should have a dark dress, and men should choose some linen and cotton ties.
Buy the best fabrics you can afford, even trying resale shops, where you can sometimes find good quality clothing at a reasonable price. Do not be too swayed by brand names, as preoccupation with these can create the wrong impression. Choose quality over trends. Try to buy good quality shoes, which should always be darker than the hem of the trousers or skirt.
Show some signs of originality in a subtle way, for instance in a pretty scarf. Wear jewellery carefully, avoiding wearing too much, or anything which is too distracting. Invest in leather bags and brief cases, as these look classic. A woman may wear a dress at work, preferably in a block color. Avoid prints or over-fussy designs.
Look after your clothing well. Hang up suits, trousers and jackets after wear. Put shoes in shoe trees. Brush and dry clean clothing regularly. Update your wardrobe at least once a year. Pay attention to your personal hygiene and grooming.
References
Writer Bio
Noreen Wainwright has been writing since 1997. Her work has appeared in "The Daily Telegraph," "The Guardian," "The Countryman" and "The Lady." She has a Bachelor of Arts in social sciences from Liverpool Polytechnic and a postgraduate law degree from Staffordshire University.
Photo Credits