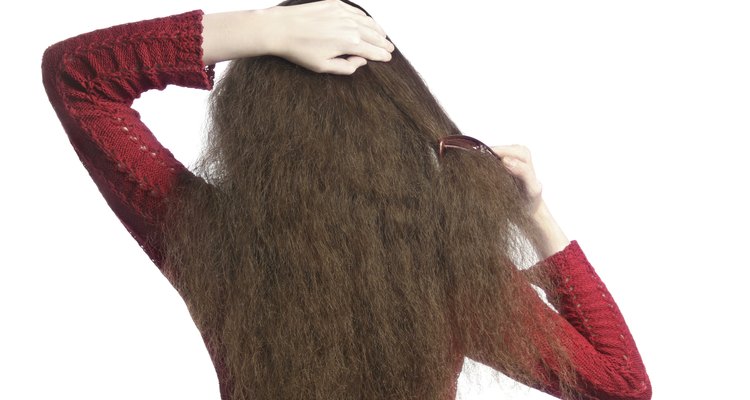 alenavlad/iStock/Getty Images
Women with thick, straight hair may have a hard time curling it in less than 10 minutes, but it's not impossible. Curled hair helps give you a classic look that works for a romantic evening out or a casual night with friends. Curls can be loose and wavy or tight and springy. You can choose among various hairstyling tools to help you create the curls -- such as curling wands and hot rollers. If you have thick hair, it may take a long time to put curlers in, but there's a way to curl your hair in under 10 minutes and look flawless. It all depends on the technique and the tool you use.
Use the Right Products
Healthy hair is always easiest to curl, so be sure to shampoo and condition your hair with the right products. Avoid volumizing shampoo and conditioner because these will only weigh your hair down. Don't use shampoos that contain shea butter or sodium laureth sulfate -- these only make your hair even heavier. Conditioners that have protein may work best, because these can help reduce frizz.
Use the Right Curling Iron
The curling iron you use has a large impact on the amount of time it takes to curl your hair and on how long the curls will last. Use a ceramic curling iron, because these get hotter than other versions. Your thick, straight hair calls for a hot tool that heats up quickly and works fast. Ceramic curling irons take about a minute to heat up, which is convenient if you want to curl your hair in 10 minutes. Stay away from hot rollers when you're in a hurry; they take much longer to heat up. It's also more time consuming to put them in your hair and take them out.
Clip vs. Clipless
There are two kinds of curling irons: clip irons and clipless irons, or wands. Clip irons tend to leave creases in the hair and flatten it, resulting in flat curls. A clip iron doesn't leave creases and creates soft, bouncy waves. Women with thick hair should use a clipless iron, because it's more convenient to wrap sections around it and style your hair as quickly as possible. Consider the size of the barrel, as well, and use a thick barrel size to curl hair quicker. A smaller barrel size creates tight curls, and will be more time consuming.
Use the Right Technique
There are several ways to go about curling your long locks.
Start from the bottom and Work your way up. This ensures that you curl each and every section.
Grab thicker strands. By wrapping thick strands around a ceramic curling wand you can finish quickly.
Curl your hair while it's in a high ponytail. You can place your hair in a high ponytail and secure it with an elastic. Then bend over and bring your hair to the front to curl the hair in the ponytail. When you finish curling your hair, stand up straight and remove the elastic from your hair. Once you let your curls down, spritz them with some lightweight hairspray to help them stay in shape.
References
Writer Bio
Lizbeth Lomeli is a lifestyle blogger currently residing in the High Desert. She has been writing about various style and beauty related articles since 2006. Her articles have been published on Woodsy Weddings, The Kindhearted, and other lifestyle blogs.
Photo Credits
alenavlad/iStock/Getty Images