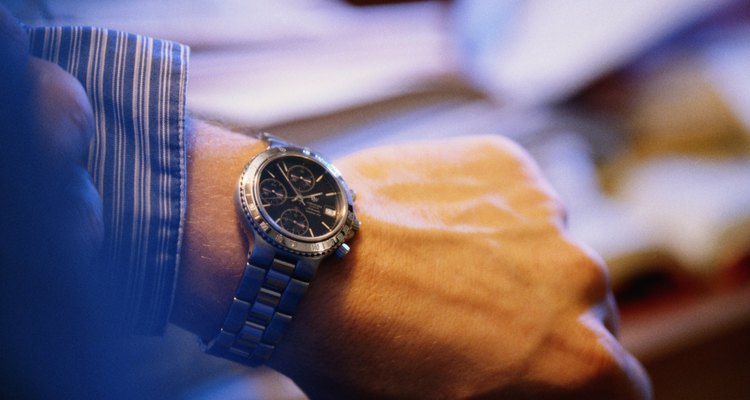 David De Lossy/Photodisc/Getty Images
Skagen of Denmark designs and sells many styles of watches for men and women, along with other fashion accessories (including jewelry and sunglasses). Whether your Skagen watchband is metal mesh, leather or rubber, you'll keep it looking better by cleaning the band and watch face regularly. To be safe, you should only use cleaning products recommended by the manufacturer. Other cleaners may damage the face or band.
Metal Band
Put on rubber gloves. Mix either an ammonia-based window cleaner with water, or rubbing alcohol with water in a small bowl. If you use ammonia-based window cleaner, skagen.com recommends mixing three parts window cleaner to one part water. For rubbing alcohol, use four parts alcohol to one part water.
Dampen a non-abrasive cloth in the solution. Rub the cloth gently over the watch face and case.
Use the same cloth or a cotton swab dipped in the solution, to clean your metal-link band. If your watch is metal mesh, use a soft, small brush (such as a toothbrush) instead. Cover the watch face with plastic wrap or similar protective covering--this is to protect it from splatters of cleaning solution. Saturate the brush bristles with the cleaning solution and scrub the mental mesh until it is clean.
Wipe the band with a soft, dry cloth.
Rubber or Leather Band
Dampen a cloth in clean water. Rub this over your rubber or leather band to remove dirt. If the band is rubber, this is all the cleaning you should do, according to Skagen.
Use leather conditioner on your top-grain (smooth) leather band occasionally to prevent it from drying. Skagen does not say how often you should do this (necessary frequency varies from situation to situation), but you should not need to do this every time you clean the watch--once every few months, or when the band feels dry, should be sufficient.
Wipe the leather band down again with a soft, dry cloth after applying the conditioner. Treat stains on nubuck bands with a nubuck and suede bar/eraser.