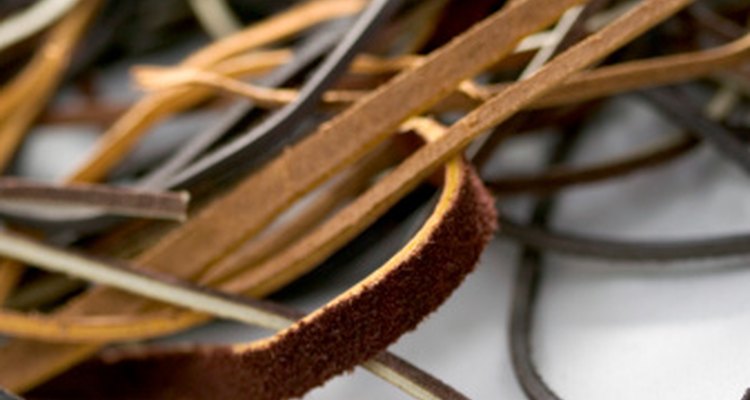 Jupiterimages/liquidlibrary/Getty Images
Finger weaving is a braiding technique used to create a variety of accessories. The method creates a flat plait braid that can utilize anywhere from 3 to12 strands. Leather strands can be used to create a natural-looking, wide-woven belt. Braiding with so many strands can seem intimidating, but the over-under finger weaving technique is completed just like a 3-strand braid. By doubling up 6 leather strands, the finger weaving process eliminates the need to tie the strands to the belt buckle.
Insert the six leather strands into the belt buckle. Fold the strands in half over the bottom of the belt buckle.
Grasping the leftmost under strand, pull it up between the two leftmost top strands, and over itself to the left of all the strands. Grasping the rightmost under strand, pull it over itself.
To begin the braid, finger weave the under strands inward, and the top strands outward.
Continue the running braid by finger weaving the top right-hand strand over and under the other strands. Then braid the top left-hand strand over and under. Alternate braiding back and forth between the top right- and left-hand strands until you have the desired belt length.
Finish the braid by tucking the two outermost strands back through two braid stitches, creating a loop on each end. Thread the two innermost strands outward and through the corresponding end loops.
Repeat the weaving and tucking process for the remaining strand ends. Use scissors to trim any excess.
References
Writer Bio
Styling since 2004 and obsessed with all things fashion for as long as she can remember, Melissa has extensive designer, trend, and DIY knowledge. Writing professionally since 2008, Melissa has married her retail and communication backgrounds to establish a career in fashion copywriting, marketing, and blogging.
Photo Credits
Jupiterimages/liquidlibrary/Getty Images