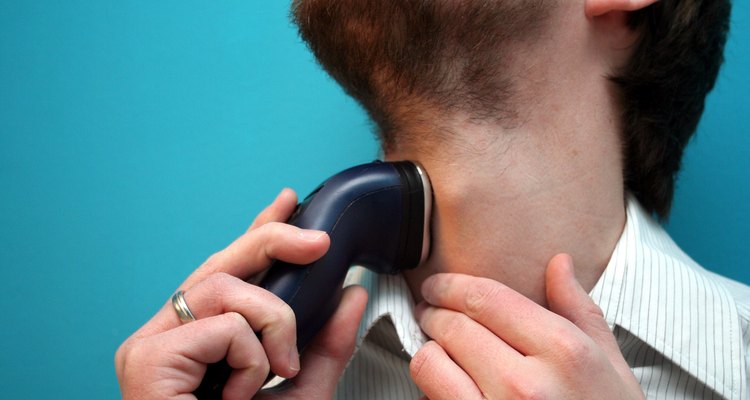 Mele Stemmermann/iStock/Getty Images
With their three-headed design, Phillips Norelco shavers are made to mold to the contours of your skin for a close shave and minimal nicks. The shavers come in both dry-shaving models and models with a wet/dry feature, so you can clean up your scruff without water or by using a lathery shaving cream. While the shaver models vary slightly, using each shaver's razor and trimmer requires the same techniques. Clean your shaver between uses for best results.
Using Your Razor
Wash your face to remove dirt and excess oil. Dry thoroughly with a towel if you're using a dry-shave razor. If your Norelco has a dry/wet shave feature, dampen your skin and apply a thin layer of shaving cream, gel or foam.
Press the "on/off" button once to turn on the shaver. Run the shaver over your cheeks and jawline in both circular and straight motions, working against the grain, or growth, of the hair. Press lightly and evenly against your skin with the shaver.
Use your free hand to stretch skin slightly around your mouth, neck and anywhere the skin is creased. Move the shaver carefully over stretched skin to avoid nicks.
Press the "on/off" switch again to power off the shaver. Open the head covering to expose the blades -- depending on your shaver model, you may have three separate coverings or one single covering.
Check for an icon of a running water tap if you have a dry shaver -- this indicates that it's safe to rinse your shaver under running water. Use hot water or immerse the blades in hot water for 15 seconds. If your shaver doesn't have a running tap icon, clean the blades by scrubbing them lightly with a razor cleaning brush. Close the head coverings.
Using Your Trimmer
Push the trimmer release switch, or slide the trimmer forward to expose the trimming blade. The razor can be on for this step if the shaving heads don't have to be removed to engage the trimmer. On some Norelco models, the shaving heads will need to be removed and replaced with the trimming heads.
Hold the trimmer against your skin exactly where you want your hair trimmed. Use a light downward motion to remove hair around your sideburns, mustache or the edges of your beard.
Rinse or brush your trimmer to remove the hair. Repeat after every use to keep your shaver in its best condition.
References
Writer Bio
Lindsey Robinson Sanchez, from Bessemer, Ala., has written for the "Troy Messenger," "The Alabama Baptist" and "The Gainesville Times," where her work was featured on the AP wire. She has a Bachelor of Science in journalism from the University of Florida. She writes style, beauty, fitness, travel and culture.
Photo Credits
Mele Stemmermann/iStock/Getty Images